This is an archived article and the information in the article may be outdated. Please look at the time stamp on the story to see when it was last updated.
An elderly pedestrian was killed by a semitrailer in a hit-and-run collision in Huntington Beach Tuesday afternoon, police said.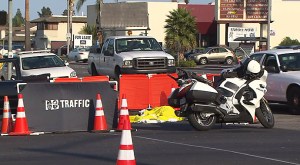 The woman was found when officers arrived on the scene shortly before 2 p.m. at Springdale Street and Warner Avenue, according to the Huntington Beach Police Department.
A witness told KTLA that the woman, who was pronounced dead at the scene, was leaving a Walgreens Pharmacy when she crossed the street in front of large truck.
For some reason the woman turned around and headed back into the street, witness Jonathan Hunt said.
"I was shocked when it happened,  probably for 45 seconds. I just sat there. I didn't know what to do. Then I heard honks and it woke me up from a scary dream," Hunt said.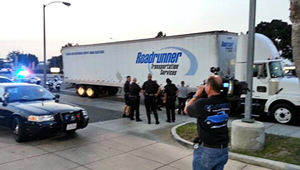 Officers were questioning the driver of a tractor-trailer found nearby, the police department said in a news release.
Witnesses told police it was possible the truck driver didn't know he had hit anything.
"I saw him look right, look left to see if cars were coming, but not if there were any people below," Hunt said.
It's not yet known if charges will be filed against the driver, Lt. Mitchell O'Brien said in an email.
Neither the name of the driver nor that of the victim were being released.