This is an archived article and the information in the article may be outdated. Please look at the time stamp on the story to see when it was last updated.
A pedestrian was seriously injured in a hit-and-run crash Thursday morning in Westchester, authorities said.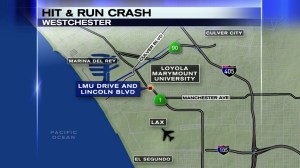 The incident occurred about 4:20 a.m. at the intersection of Jefferson and Lincoln boulevards (map), near Loyola Marymount University, according to the Los Angeles Police Department.
A man was walking or jogging southbound on the sidewalk on Lincoln Boulevard when a car that was traveling in the same direction veered off the road and struck a light pole before striking the pedestrian, said LAPD Sgt. Stephanie Krajchir.
"The driver did not stay at [the] scene or render any aid … so we don't know who she is," Krajchir said.
The victim, believed to be about 60 years old, was transported to a hospital. Krajchir described his injuries as "very, very severe. Possibly life-threatening."
A description of the driver, who remained at large, was not immediately available.
The southbound lanes on Lincoln Boulevard were closed while authorities conducted an investigation.