This is an archived article and the information in the article may be outdated. Please look at the time stamp on the story to see when it was last updated.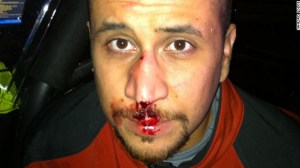 SANFORD, Fla — A photo posted online Monday shows George Zimmerman with blood on his nose and lips.
His attorneys say it was taken the night unarmed teen Trayvon Martin was killed in Sanford, Florida.
Zimmerman says he shot Martin in self-defense. Martin's attorneys say he was shot and killed "in cold blood."
Prosecutors have charged Zimmerman with second-degree murder for the February 26 killing.
The picture, posted Monday on Zimmerman's defense website, was taken by a police officer, Zimmerman's attorneys wrote.
The state had previously provided a black-and-white copy of the image, the attorneys wrote on the website. "This high resolution digital file was finally provided to the defense on October 29."
A police report from the night of the incident said Zimmerman was "bleeding from the nose and back of his head."
The 28-year-old volunteer neighborhood watchman was driving through his gated community when the incident occurred. Martin was walking through the neighborhood to his father's girlfriend's house.
Zimmerman has claimed that after the two exchanged words, Martin charged at him, knocked him to the ground and banged his head repeatedly against a concrete sidewalk.
Martin's family says Zimmerman attacked the teen, who had done nothing wrong.
Martin's death sparked nationwide protests and inflamed public passions over race relations and gun control, as well as Florida's controversial "stand your ground" law, which allows the use of deadly force when a person perceives a threat to safety.
More on the story at CNN.com