This is an archived article and the information in the article may be outdated. Please look at the time stamp on the story to see when it was last updated.
PASADENA, Calif. (KTLA) — A quiet evening turned into chaos for one Pasadena family when a pickup truck slammed into their house.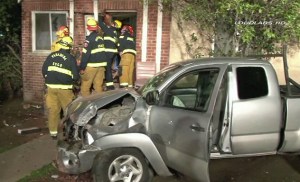 It happened around 11 p.m. Wednesday near Washington Blvd. and Summit Ave.
The driver of the pickup was heading westbound of Washington when he lost control while trying to make a left turn onto Summit.
The driver, a 20-year-old Hispanic man form Pasadena, was injured and was taken to the hospital.
He is facing possible DUI charges, according to police.
Fortunately, a mother and a child who were inside the home were not hurt.
"There was debris in the house and out here scattered throughout the yard," said Jeff Scott, a contractor for Blackmon Mooring. "It kind of exploded."
"The wall right here was hit and buckled and hit the dresser, which hit the couch and slid everything in the living room over," he explained.
"It kind of exploded everywhere," he added. "The truck hit the side of the building, the wall hit a dresser and it actually moved the couch."
"There was a girl sleeping on the couch at the time," he said. "[She came within] I guess a couple feet of dying."
The home has been red-tagged, and the family has been removed for their safety. The Red Cross is helping them find alternative housing.