This is an archived article and the information in the article may be outdated. Please look at the time stamp on the story to see when it was last updated.
Sid Caesar, a television pioneer who reigned as the king of live TV sketch comedy in the 1950s with his inspired brand of mimicry, pantomime and satire on the classic comedy-variety series "Your Show of Shows" and "Caesar's Hour," died Wednesday. He was 91.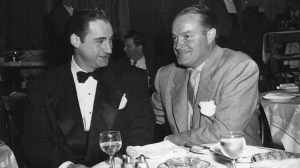 Caesar died at his home in Beverly Hills after a brief illness, according to his biographer and friend Eddy Friedfeld.
A two-time Emmy Award-winning performer during his TV heyday in the `50s, Caesar has been hailed as "one of the great TV clowns," "one of television's most inventive performers" and "a genius at making people laugh."
"Television had its share of comedy geniuses," Times television critic Howard Rosenberg wrote in 1994. "Yet arguably none has been as uniquely gifted and inventive as Caesar. Watching him perform, you just know light bulbs are popping continuously in his brain."
Click here to read the full story on LATimes.com.