This is an archived article and the information in the article may be outdated. Please look at the time stamp on the story to see when it was last updated.
A ban on single-use plastic grocery bags took effect Wednesday in the city of Los Angeles.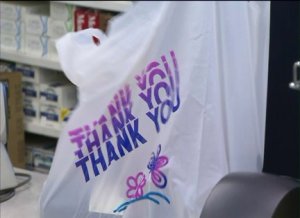 Starting on January 1, 2014, customers would have to bring reusable bags to carry their groceries or purchase paper bags for 10 cents each.
In June, the Los Angeles City Council passed an ordinance banning single-use plastic bags.
"Billions of plastic single-use carryout bags are consumed in the City of Los Angeles each year," the ordinance said.
"These bags negatively impact the environment and create a blight of litter that is pervasive in the public landscape, including parks, streams, beaches and streets," the ordinance stated.
The new ban applies to large retailers that sell groceries such as Ralphs, Wal-Mart and Target.
It was set to expand to drug stores, convenience stores, and other supermarkets in July.
Businesses that violate the new law would be penalized with fines, beginning at $100 after the first violation, $200 after the second and $500 dollars after the third, according to the ordinance.
The ban followed similar legislation in Santa Monica and West Hollywood.
The Los Angeles plastic bag ban was just one notable law being implemented on New Year's day.
A slate of updated laws went into effect throughout the state of California Wednesday.