This is an archived article and the information in the article may be outdated. Please look at the time stamp on the story to see when it was last updated.
DALLAS — A former Texas special education teacher, described by a colleague as a "gentle giant," was suspected of shooting four people dead and wounding four others after an apparent domestic dispute late on Wednesday, police said.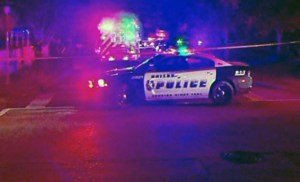 The shooting spree began inside a home in Dallas and ended soon afterward in another house in DeSoto, a suburb about 15 miles south, said Corporal Melissa Franks of the DeSoto, Texas Police Department.
A suspect identified as Erbie Bowser was taken into custody, Franks said. The two people killed in Dallas were Tasmia Allen, 17, and her mother, Toya Smith, 43. Smith was identified by her mother, Lurlean Smith, as Bowser's girlfriend.
"He's controlling," Smith told local television. "He controlled my daughter."
Police did not identify the DeSoto victims, but Verniece Criddell, 79, a relative, said they were Zina Bowser, a nurse and the estranged wife of Erbie Bowser, and her daughter Neima Williams. The two boys, ages 11 and 13, who were wounded in DeSoto were Zina Bowser's sons.
Click here to read more on ChicagoTribune.com.