This is an archived article and the information in the article may be outdated. Please look at the time stamp on the story to see when it was last updated.
HOLLYWOOD, Calif. (KTLA) — Police on Wednesday were investigating a crime spree in Hollywood on Tuesday night involving as many as 50 roaming robbers.
A dozen people were taken into custody and many more remained at large following the string of robberies, assaults and acts of vandalism, police said.
One adult and 11 juveniles were arrested, and all but one were booked on suspicion of robbery. One person was arrested for receiving stolen property, police said.
Police began receiving 911 calls around 9 p.m. about dozens young people roaming along Hollywood Boulevard and attacking people, Capt. Dennis Kato, the incident commander, told the Los Angeles Times.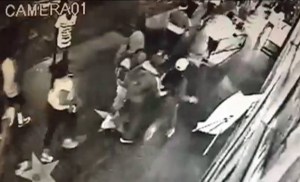 At least one of the attacks was near the Hollywood and Highland retail complex, police said.
The marauding robbers knocked over tourists and took cell phones and purses, according to police.
"One kid came up with his hand in his bag and said he was going to shoot me if I didn't give him my phone," victim Gordon Larson said.
None of the victims was seriously injured.
The robbers also allegedly took items from stores, including a cash register in one case, Kato said.
Officers swarmed the area, including more than 110 officers who were brought in from other LAPD divisions, Kato said.
The attackers appeared to be an organized group who knew each other, according to police.
As officers responded, they splintered into smaller groups of 10 to 15 people throughout the area, regrouping at times, police said.
Part of the group started back eastbound toward the subway station at Hollywood and Vine in an apparent attempt to flee, police said.
It was believed that many of the robbers initially came to the Hollywood area the same way.
The dozen in custody on Wednesday came from South L.A. and Compton, LAPD Sgt. John Barkley told the Times.
The crimes did not appear to be related to the protests Wednesday night over the George Zimmerman acquittal.
However, police said they believed many involved in the robberies were also involved in the violence that marred Zimmerman-related protests earlier in the week.
The Los Angeles Times contributed to this report.