This is an archived article and the information in the article may be outdated. Please look at the time stamp on the story to see when it was last updated.
A freshman student was killed and the suspected shooter was dead following a shooting at an Oregon high school near Portland, law enforcement officials said.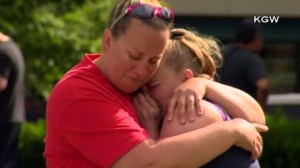 The shooting was reported shortly after 8 a.m. at Reynolds High School in Troutdale, which is located about 12 miles east of Portland, according to authorities.
The gunman entered the high school and opened fire on one student, Troutdale police Chief Scott Anderson said at a news conference about two hours after the shooting occurred.
The student was identified as 14-year-old Emilio Hoffman, a freshman, Anderson said late Tuesday afternoon, CNN reported.
The shooter entered the building that houses the school gym, killing Hoffman in the boy's locker room, Anderson said. The shooter was found in a separate restroom, the chief said.
The gunman was believed to be a student at the school and appeared to have fatally shot himself, police told CNN.
His identity has not yet been released.
"I'm very, very sorry for the family, and for all the students and everybody who will be impacted by this tragic incident," Anderson said.
Multiple agencies responded to the scene and were working to evaluate students and staff, according to a news release from the Multnomah County Sheriff's Office.
"The situation is stabilized, the shooter is confirmed deceased," the release stated.
One teacher sustained non-life-threatening injuries, CNN reported.
A semiautomatic weapon was involved, according to the cable news channel.
Police have not given any details about what might have led up to the shooting.
An investigation would continue throughout the day, Anderson said, adding that law enforcement would hold another briefing around noon.
Following the shooting, people were asked to stay away from the area, while parents were told to pick-up their kids at a separate location.
Parents were hugging their children, while others stood arm-in-arm outside the school, video from the scene showed.
"This is a very tragic day, one that I had hoped would never ever be," said Linda Florence, the superintendent of the Reynolds School District. She added, "Our kids were absolutely wonderful today exiting the building."
Oregon Gov. John Kitzhaber also expressed his condolences, first over Twitter and then later releasing a formal statement through his office.
"My heart is heavy after learning of this morning's tragic events at Reynolds High School," Kitzhaber said in the statement. "Today Oregon hurts as we try to make sense of a senseless act of violence. Please keep students, staff, the extended Reynolds community and first responders in your thoughts and prayers."
Tuesday's incident marked the 74th school shooting in the U.S. since Sandy Hook in December 2012, the Oregonian reported.
Speaking in Washington during a Q&A with Tumblr on Tuesday afternoon, President Barack Obama said mass shootings were occurring "once a week."
In response to a question about gun violence — posed by a student at UC Santa Barbara, near where gunman Elliot Rodger killed six people last month — Obama said members of Congress are "terrified" of the National Rifle Association.
"My biggest frustration so far is the fact that this society has not been willing to take some basic steps to keep guns out of the hands of people who can do just unbelievable damage," Obama said. "Our levels of gun violence are off the charts. There's no advanced, developed country on Earth that would put up with this."
He noted the "primal scream" given by Richard Martinez, the father of one of Rodger's Isla Vista victims, who had blamed the NRA and politicians for his son' death.
"If public opinion does not demand change in Congress, it will not change," Obama said.
KTLA's Melissa Pamer contributed to this article.