This is an archived article and the information in the article may be outdated. Please look at the time stamp on the story to see when it was last updated.
Pennsylvania police are contacting investigators around the country after a teenager suspected of killing a man she met through Craigslist told a local newspaper reporter that she was a prolific serial killer in a satanic cult.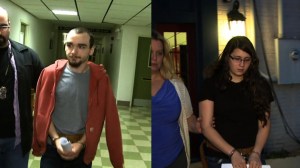 Sunbury, Pa., police Officer Travis Bremigen told the Los Angeles Times that he's already contacted the local FBI office as well as officials in North Carolina and Alaska.
RELATED: Teen Arrested in Craigslist Slaying Says She's Killed 22 Others
Soon, he said, he'll be contacting investigators in Los Angeles, after Miranda Barbour, 19, reportedly claimed that she killed someone there. Where, exactly? It's not clear, Bremigen told The Times. "She just said 'L.A.,'" he said.
"It's such a vague comment she made," he said, adding, "We'll be actively pursuing anything that she said … and see what we can come up with. It's gonna be a group effort."
Click here to read the full story from LATimes.com.