This is an archived article and the information in the article may be outdated. Please look at the time stamp on the story to see when it was last updated.
A man died Sunday after being shot in a confrontation with Long Beach police, authorities said.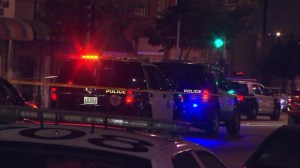 Officers responded about 6 p.m. to the intersection of Anaheim Street and Magnolia Avenue, where witnesses had reported a man firing a gun, Long Beach police Sgt. Aaron Eaton said.
When the officers arrived, they saw a man matching the description that they had been given; he was walking along Anaheim Street toward Chestnut Avenue, Eaton said.
"When the officers confronted that suspect, an officer-involved shooting occurred," he said.
The officers attempted to perform medical aid before the man was transported to a hospital, where he was later pronounced dead, authorities said.
The man, who was not identified, was described only as being in his 30s.
A handgun was recovered at the scene, according to police.
Investigators have since learned that, before officers arrived at the scene, the man fired his weapon at a vehicle that then fled, Eaton said. He added: "We're still, at this point, looking for that vehicle. We're not sure if the vehicle or its occupants were hit at all."
Anyone with information about the incident was asked to contact the Long Beach Police Department.