This is an archived article and the information in the article may be outdated. Please look at the time stamp on the story to see when it was last updated.
A Santa Ana man has been charged with burglary after allegedly stealing cell phones and a PlayStation console from a home — and falling asleep next to the owners.
Ruben Diego Ortega, 20, was arrested and booked into the Santa Ana Police Department Jail after a homeowner reported finding him inside the house about 8 a.m. Saturday.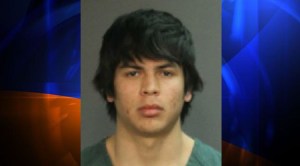 The victim was in his room, sleeping with his wife, when he felt something touch his leg, according to a statement issued by the Santa Ana Police Department. He said he got up and saw Ortega, a man he knows from his neighborhood, sleeping at the foot of his bed.
The man chased the suspect out of the house. A few hours later, the victim realized some of his property was missing. He went to Ortega's residence in the 1200 block of West Highland Street, confronted him, and retrieved his property, authorities said.
After calling police to report the crime, the man directed officers to Ortega.
"The suspect … admitted to seeing the window in the house open and decided no one was home and went in to see what he could steal," the statement said. Ortega "said he was crawling out of the house with the property and must have fallen asleep."
He remained in custody Sunday night, in lieu of $50,000 bail, police said.