This is an archived article and the information in the article may be outdated. Please look at the time stamp on the story to see when it was last updated.
Police on Tuesday were asking for the public's help in identifying two men wanted in connection with two armed robberies in the San Fernando Valley.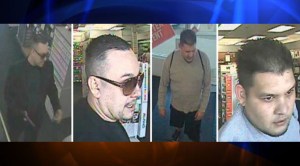 The men, one of who was armed with a handgun, entered an electronics store in the 20000 block of Sherman Way (map) about 9 p.m. April 11 and ordered the employees into a back room, according to a news release issued by the Los Angeles Police Department. After forcing the workers to open a safe, the robbers removed about $30,000 worth of cellphones and then fled the store.
It was unknown whether the men departed on foot or in a vehicle, police said. No video footage of the incident exists.
About 9:15 a.m. April 24, the same robbers entered an electronics store in the 17000 block of Vanowen Street (map), the news release said. One of the men, who again had a firearm, ordered a female employee to open a safe in a rear room. The other man then removed cellphones worth $42,000.
Surveillance video showed the robbers fleeing in a vehicle, according to authorities.
Detectives showed the footage to employees who were targeted in the April 11 incident. Those workers "recognized both suspects and identified them as the [men] who robbed them earlier in the month," the release said.
The armed robber is described as a Hispanic male, 5 feet 11 inches to 6 feet tall, weighing 220 to 230 pounds. He was last seen wearing a long-sleeve gray sweater, brown plaid shorts and a black backpack.
The other robber is believed to have been in the stores a few days before both robberies. He entered the locations first and pretended to browse for merchandise, the LAPD said.
The vehicle in which the men fled is described as a green Honda or Nissan, model year 1999 or 2000, with slight traffic damage to the left of the front bumper.
Anyone with information is asked to call LAPD Detective Angeles at 818-374-7746 or Detective Ruiz at 818-756-2523.