This is an archived article and the information in the article may be outdated. Please look at the time stamp on the story to see when it was last updated.
At least six people were hospitalized and a TSA agent was dead after a shooter opened fire in a terminal at Los Angeles International Airport Friday morning.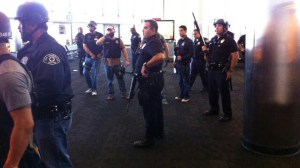 A 23-year-old suspect was in custody following a massive police response that left LAX in near chaos.
A gunman pulled an assault rifle from a bag on the lower level of Terminal 3 and began shooting about 9:20 a.m., proceeding upstairs through the security checkpoint and deep into the gate area, authorities said.
He shot three people, two of whom were TSA agents, and several other people were wounded, Los Angeles Mayor Eric Garcetti said.
LAX airport police responded and opened fire, wounding the suspect, who received medical attention, according to officials. He was taken into custody near the terminal's food court.
"There were than 100 more rounds that could have…killed everybody in that terminal," Garcetti said, praising the work of the responding officers of the Los Angeles Airport Police Division.
The shooter was described as working alone; LAX was said to safe once he was taken into custody.
"There is only one individual that is responsible for this…as the active shooter that was in our terminal," Los Angeles airport police Chief Patrick Gannon said.
The suspect was identified as Los Angeles resident Paul Ciancia, 23, a former resident of New Jersey, said David Bowditch, FBI special agent in charge.
"We are still trying to determine how he got here," Bowditch said.
Authorities were continuing to investigate Ciancia but would release few details about him, Bowditch said.
He gave an FBI tip line — 888-226-8443 –that those who have information pertinent to the investigation may call.
Seven people were treated on scene, six of whom were hospitalized, Los Angeles interim fire Chief Jim Featherstone said.
A spokesman for the TSA officers' union, the American Federation of Government Employees, said union officials in Los Angeles had confirmed the death of 39-year-old agent Gerardo I. Hernandez, whose killing marked the first for a TSA officer in the line of duty.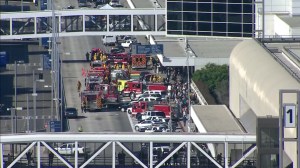 Three of the injured were taken to Ronald Reagan UCLA Medical Center, which had prepared for as many as 50 patients, a hospital spokeswoman said. Two were taken to Harbor-UCLA Medical Center near Torrance, including the slain TSA agent.
Witnesses described a chaotic scene at the airport, where flights were grounded and passengers moved onto the tarmac amid a massive emergency response. Some said they were held for hours without access to food or water.
Traffic was snarled as airport roads were closed for most of the day, and Terminals 1, 2, and 3 were also shut down.
"Travelers should expect delays and should check with their airlines for flight informatio," Garcetti said at an afternoon news conference. "Our first priority is safety and I know there's tremendous pressure from the traveling public to get their planes … but we want them to be safe."
Immediately after shots were fired, travelers  were being moved quickly along outside terminals and passengers were deplaning onto the tarmac, aerial video showed.
In the terminal, the shooting caused a terrifying scene, witnesses said.
"There was a guy downstairs who started shooting. One guy fell down. Panic erupted," said a passenger and witness who gave his name as Alex.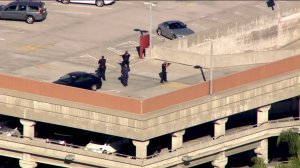 Another witness was at a gate near the end of the terminal when he heard shots ring out and then saw the gunman come through.
"Suddenly there's people running toward us, a mass wall of people," Vernon Cardenas said. "One person just happened to kick open the only emergency exit, and everyone started running down to the tarmac and hiding."
Witness Nick Pugh said he was in Terminal 3 when he heard eight or 10 shots close by and everyone around dropped to the ground. He too ran through an emergency exit onto the tarmac.
"Police came rushing toward me, I don't know,  maybe thinking I was a suspect, and put me down on the ground and handcuffed me," Pugh said. "They were worked up. Anybody could be a suspect, so I don't blame them."
Officers who had trained for the "exact scenario" of a live shooter responded quickly after the gunman began firing shot and then proceeded well into the terminal's gate area, Gannon said.
"Unfortunately, it involved an officer-involved shooting," Gannon said. "But that's what needed to be done in that particular situation, and that was heroic."
An image posted from inside Terminal 3 showed a rifle on the ground in a gate area along with what appeared to be bloody clothing.
Earlier, a video posted on Instagram showed an initial announcement being made about the shooting as travelers waited inside a terminal.
The Federal Aviation Administration grounded or diverted flights head for LAX until 4 p.m.