This is an archived article and the information in the article may be outdated. Please look at the time stamp on the story to see when it was last updated.
WEST LOS ANGELES, Calif. (KTLA) — Police were asking for the public's help Tuesday in locating a teenager who vanished on her way to a local hospital where she works as a volunteer.
Caroline Karimi was last seen by her family around 7 a.m. Monday at her home in the 2900 block of Queensbury Street in the West Los Angeles area.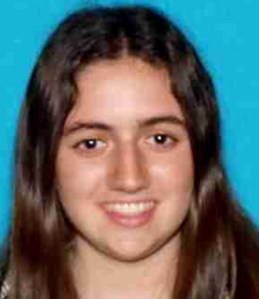 Family members became concerned when Karimi failed to show up for her job as a volunteer at San Gabriel Valley Medical Center, where she worked four days a week.
Her father, Dr. Art Karimi, told KTLA his daughter used her credit card to buy gas right after she left home.
She was then spotted on surveillance video at a nearby Vons supermarket, where she used her credit card to to buy a sandwich at the deli, Karimi said.
The video showed her leaving the parking lot alone.
A few minutes later, the teenager texted her mother to say she was on her way to the hospital, but she never arrived.
Karimi and her father were scheduled to board an American Airlines flight Wednesday morning from LAX to Boston to attend a family gathering.
The teenager has brown hair and green eyes.
She stands 5 feet 5 inches tall and weighs about 135 pounds.
Karimi was last seen wearing a dark-blue hospital shirt, white pants and orange and blue shoes.
She was driving a light green Toyota Prius with California license plate No. 5YVV475.
Anyone with information was urged to contact Detective Alma Mercado of the LAPD Missing Persons Unit, at (213) 996-1800.