This is an archived article and the information in the article may be outdated. Please look at the time stamp on the story to see when it was last updated.
Los Angeles Police were looking for a hooded vandal who entered a Catholic church in North Hollywood and pushed over statues, vases and paintings this week.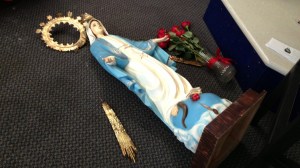 Statues of the Virgin Mary and St. Patrick were knocked to the ground in the vandalism attack at St. Patrick's Catholic Church on Tuesday evening, photos from the scene showed.
A man entered the chapel between 9 and 9:25 p.m. and caused the damage, according to a news release from the Los Angeles Police Department.
Flowers, plants and paintings were left on the ground, in addition to the statues, the photos showed.
"Who can do that?" said Father Nicholas Sanchez, who was called to the chapel by a maintenance worker. "What's happened with the person that did this kind of thing?"
Grainy video surveillance recorded the hooded man at the scene, according to police Capt. Stephen Carmona, who said the individual may have been "unstable" or under the influences of drugs or alcohol.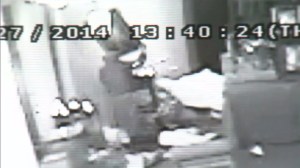 The man came in through an unlocked door that is left open for worshippers to enter at any time, Father Nicholas Sanchez said.
"A church is not to be closed; a church is to be open," Sanchez said. "People need to come here and speak with God."
Sanchez said he was praying for the vandal.
The church is the 6100 block of Cahuenga Boulevard in North Hollywood (map).
Anyone with information was urged to call North Hollywood Area Burglary Detectives at 818-623-4045. During nonbusiness hours, calls may be directed to 877-527-3247.
Those who want to remain anonymous can call Crime Stoppers at 800-222-8477.