This is an archived article and the information in the article may be outdated. Please look at the time stamp on the story to see when it was last updated.
PLAYA DEL REY, Calif. (KTLA) — Two gunmen were at large Tuesday after tying up an elderly man in his home and stealing multiple items including the man's SUV, police said.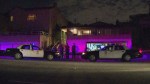 Officers responded to the 7500 block of Vista Del Mar shortly before midnight Monday evening after receiving a call reporting a home invasion, according to the Los Angeles Police Department.
The victim "was inside his residence. He was doing some work on his computer when he was accosted by two possibly male blacks or Hispanics," LAPD Sgt. Dennis Beacham said. "He was tied up. He was kicked and they demanded items from his residence."
The victim, who owns and operates an ATM business, may have been targeted, investigators said.
Along with cash and a handgun, the robbers took the man's 2013 Mercedes-Benz SUV, police said. By tracking the victim's smartphone, which had been left inside the vehicle, police were able to find the SUV about a half a mile away in Playa Vista.
The gunmen also stole a valuable currency collection, the victim said, adding that he intended to offer a reward for its return.
Anyone with information regarding the robbery was asked to contact the Los Angeles Police Department.