This is an archived article and the information in the article may be outdated. Please look at the time stamp on the story to see when it was last updated.
SHERMAN OAKS, Calif. (KTLA) — Police are searching for a man accused of taking video up a woman's skirt at a pet store using an iPad.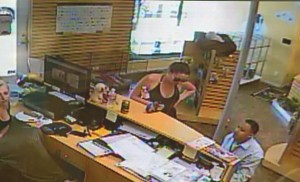 It happened on Friday at the Puppy & Me pet shop in Sherman Oaks.
Surveillance video shows the man following a woman around the store.
He later keeps kneeling down to pet her dog.
But Brittanie Weaver says she quickly realized that was just an act as he used an iPad to look up her skirt.
"He kept kneeling down and like falling over and couldn't seen to balance properly," she explained.
"And I realized by the time I got to the counter that he had been filming up my dress with his iPad."
Weaver says she didn't want to start a confrontation, so she quietly started writing the store clerk a note about what was going on.
She then went to contact police. Anyone with information is asked to contact the LAPD.