This is an archived article and the information in the article may be outdated. Please look at the time stamp on the story to see when it was last updated.
Authorities on Wednesday made multiple arrests and served more than two dozen search warrants in an investigation into the theft of property from passengers' luggage and directly from aircraft at Los Angeles International Airport, officials said.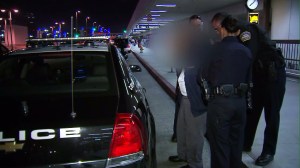 Numerous items were recovered during the arrests and the service of 25 warrants, according a news release issued by Los Angeles Airport Police and the Los Angeles Police Department.
The LAX Joint Crime Task Force, comprised of airport police and LAPD detectives, conducted Wednesday's operation at LAX and homes throughout L.A. County.
The thefts were connected to a group of people, all of whom are current or former employees of companies contracted by airlines to provide baggage-handling services, authorities said.
The arrestees had undergone employment and criminal background checks before being authorized to work at the airport, according to airport police Chief Patrick Gannon.
"It's a disappointment, but a fact of life, that sometimes a few people will succumb to the temptations at LAX," Gannon said in a statement. "The actions of these few do not represent the nearly 45,000 individuals who work for the nearly 350 employers at LAX."
The number of reported thefts from checked baggage represents a small fraction of the nearly 54.7 million pieces of luggage that passengers check annually at the airport, he said.
Some 66.7 million passengers passed through LAX in 2013, according to officials.
While serving the search warrants on Wednesday, investigators seized jewelry, electronics, clothing and other personal belongings believed to be the reported stolen property that launched the investigation, police said.
"These items are currently being identified in an attempt to return them to their owners and to assist them in the prosecution of identified suspects," the news release said.
The investigation is ongoing.