This is an archived article and the information in the article may be outdated. Please look at the time stamp on the story to see when it was last updated.
A middle school crowded with parents dropping off their children and students hurrying to class erupted into chaos Monday morning as a student drew a semiautomatic handgun and opened fire, killing a teacher and wounding two students before fatally turning the gun on himself.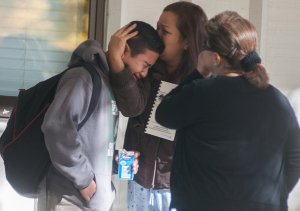 The unidentified shooter was dressed in khaki slacks that are part of Sparks Middle School's required uniform, witnesses said. He shot one 12-year-old boy in the abdomen and another 12-year-old boy in the shoulder, Sparks Police Department Deputy Chief Tom Miller said, adding that both wounded boys were listed in stable condition. But he declined to identify any of the students or provide additional details, other than confirming that the shooter had committed suicide.
Witnesses said the slain man, identified by family members as eighth-grade math teacher Michael Landsberry, tried to intervene before the boy with the gun aimed his weapon at him and fired.
"We've got video we have to review, people we've got to talk to," said Tom Robinson, deputy chief of the Reno Police Department. "But in my estimation, he is a hero. We do know he was trying to intervene."
Click here to read the full story on LATimes.com.