This is an archived article and the information in the article may be outdated. Please look at the time stamp on the story to see when it was last updated.
A pair of White House staffers helped provide House Intelligence Committee Chairman Devin Nunes information last week that may show some of President Donald Trump's top aides were picked up in intelligence collection.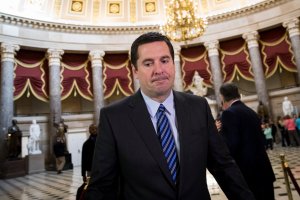 The information has also derailed the House investigation into Russian interference in the US election.
Ezra Cohen-Watnick and Michael Ellis, two National Security Council officials in the Trump White House, are believed to be two of the individuals involved in assisting Nunes last week in gathering intelligence materials, a US official confirmed to CNN Friday.
The New York Times and The Washington Post reported Thursday on the identities of Nunes' sources.
It is not immediately clear to CNN if either individual was directly involved in showing Nunes the documents. The Washington Post, citing an unnamed official, reported Cohen-Watnick found the reports but had no role in getting it to Nunes.
Democratic sources on the House intelligence committee said Wednesday that staff were briefed on the alleged source of Nunes' information Wednesday, but could not independently confirm their identities.
"As he's stated many times, Chairman Nunes will not confirm or deny speculation about his source's identity, and he will not respond to speculation from anonymous sources" Nunes spokesman Jack Langer said in a statement to CNN Friday.
Nunes has been adamant that he would not reveal who alerted him to the intelligence collection last week. Pressure has been mounting on him, day after day, since he made his stunning announcement last week.
CNN reported Monday that Nunes met with his source on White House grounds last Tuesday — one day before revealing briefing the press and Trump on his findings. Hours after it was reported Nunes received his intelligence on White House grounds, House Democratic Leader Nancy Pelosi and the committee's top Democrat, Rep. Adam Schiff, called on Nunes to recuse himself from the House Russia investigation.
Nunes has so far refused to remove himself from the investigation, and has been supported by House Speaker Paul Ryan. But some House Republicans have begun expressing concerns about Nunes' ability to lead the investigation after the events of the past week.
Members of the House intelligence committee say, meanwhile, that they are still waiting to review the information Nunes reviewed. Nunes initially said he expected that information would be provided by the National Security Agency last Friday, but has consistently pushed that timeline back.