This is an archived article and the information in the article may be outdated. Please look at the time stamp on the story to see when it was last updated.
A new survey of Interior Department employees released Thursday found that 35% of its workers were either harassed or discriminated against at work in the previous 12 months.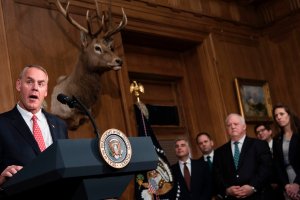 In the instances where harassment was reported, about 40% of the time no action was taken or the individuals said they were encouraged to drop the issue, according to the study.
The anonymous survey that the department gave to its employees in early 2017 found that of those who said they had been harassed, 20.5% of employees believed they experienced age-related harassment, 16.5% believed they were harassed due to their gender and 9.3% said they were harassed because of their race or ethnicity. Other reasons employees listed for being harassed were religion (7.1%) disability (6.1%) or sexual orientation (3.6%).
Additionally, 8% of employees who said they had been harassed said they experienced sexual harassment at work. And less than 1%, or 0.74%, said they had experienced sexual assault.
According to the results of the survey, which was completed by 44% of Interior employees, women and sexual minority employees were the most likely to experience sexual harassment or assault and harassment due to gender.
The findings additionally showed that the harassment mostly occurred during work hours or at a work location or site, and more than half of employees said the instances of harassment were repeated, with a majority reporting that they had to continue to interact with the people involved.
The new survey follows findings released by the Interior Department in October that found widespread harassment within the National Park Service. About 40% of Park Service employees reported having been harassed in some way in the previous 12 months. During a phone call with reporters at the time, Interior Secretary Ryan Zinke said the department had adopted a zero tolerance policy and had fired a number of employees.
The implementation of the surveys followed a 2016 report from the department's Office of Inspector General that found "evidence of a long-term pattern of sexual harassment and hostile work environment" at the Grand Canyon National Park's River District. The investigation was opened following allegations from 13 former and current park employees who sent a letter of complaint in 2014 to then-Interior Secretary Sally Jewell.
In a statement Thursday Zinke said that he has already fired "a number of predators," actions he said previous administrations were too scared to take.
"From day one, I made it clear that I have zero tolerance for any type of workplace harassment, and I have directed leadership across the entire Department to move rapidly to improve accountability and transparency with regard to this absolutely intolerable behavior," Zinke said. "All employees have the right to work in a safe and harassment-free environment. I've already fired a number of predators who other administrations were too afraid to remove or just turned a blind eye to. Under my leadership we don't protect predators. When I say 'zero tolerance' I mean that these people will be held accountable for their abhorrent actions."