This is an archived article and the information in the article may be outdated. Please look at the time stamp on the story to see when it was last updated.
Moments after the Federal Communications Commission on Thursday voted to roll back net neutrality regulations, a state senator pledged to introduce legislation that would preserve open internet protections for consumers in California.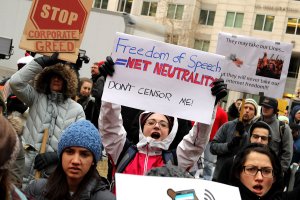 "Net neutrality is essential to our 21st century democracy, and we need to be sure that people can access websites and information freely and fairly," Sen. Scott Wiener (D-San Francisco) said in a statement.  "If the FCC is going to destroy net neutrality and create a system that favors certain websites just because they can pay more money, California must step in and ensure open internet access."
The announcement of the proposal came shortly after the FCC voted to repeal net neutrality in an expected 3-2 party-line vote, with Republicans calling for an end to the utility-like oversight of internet service providers.
The Obama-era rules put in February 2015 barred broadband and wireless companies, such at AT&T Inc., Charter Communications Inc. and Verizon Communications Inc. from selling faster delivery of certain data, slowing speeds for certain video streams and other content, and discriminating against legal material online.
Read the full story on LATimes.com.