This is an archived article and the information in the article may be outdated. Please look at the time stamp on the story to see when it was last updated.
The White House cautioned Republican lawmakers Tuesday against abandoning their own party's health care plan, warning skeptics that the measure presents the best — and, potentially, only — chance to repeal Obamacare.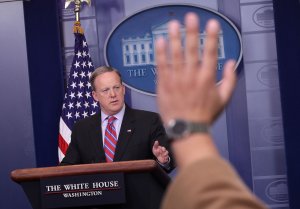 "This is the only vehicle that seeks to achieve what people on our side have been talking about since 2010. This is it," White House press secretary Sean Spicer told reporters at the White House, a day after the nonpartisan Congressional Budget Office released an analysis showing the Republican plan could result in 24 million fewer insured Americans by 2026.
Calling the CBO "consistently wrong" on projecting health coverage, Spicer insisted that scuttling the bill up for debate — called the American Health Care Act — could end Republicans' dreams of ridding the country of the current health law.
"If we don't get this through, the goal of repealing Obamacare and instituting a system that will be patient centered is going to be unbelievably difficult," Spicer said. "This is the vehicle to do that."
His remarks came as Republican support for the health bill appeared to be fracturing. Moderates fear they'll come under political fire for supporting a plan that's estimated to reduce the number of insured, while conservatives are using the CBO report to argue for more changes to the proposal.
Spicer said Tuesday that the White House was working with House leaders to write changes to the bill, which was only introduced last week.
House Speaker Paul Ryan's office did not immediately respond to a CNN request for comment.
The so-called "manager's amendment" includes several individual changes, and could be used to bolster support for the plan before it comes up for a vote on the House floor, Spicer said.
"We are obviously in talks with House leadership," he said.
President Donald Trump is scheduled to speak by phone with Ryan and House Majority Leader Kevin McCarthy Tuesday afternoon. That call follows a planned conversation with the chief executive of Anthem, one of the nation's largest private health insurers.
Trump declined to comment on the CBO report when questioned by a reporter ahead of his meeting with Mohammad bin Salman, the deputy crown prince of Saudi Arabia, in the Oval Office Tuesday.
Spicer downplayed the implications of a joint White House-Republican leadership effort to alter the health care bill, saying such measures were always part of their calculations.
"I think it is an admission of what we stated at the beginning of this entire process, which was the President was going to engage with members to hear their ideas," Spicer said. "We are not, this has never been a take it or leave it."
He said Trump remains committed to upholding his campaign trail promise of providing health care coverage to all Americans.
"The President's goal is to make insurance available for everybody. Yes, that's what he intends to do," Spicer said. "The goal of this is to make sure every American has the choice and a plan that they can afford, and that they have the choice to buy and that's not what they have now."