This is an archived article and the information in the article may be outdated. Please look at the time stamp on the story to see when it was last updated.
Amid an intensifying battle over health care reform, Breitbart News has escalated its battle against House Speaker Paul Ryan.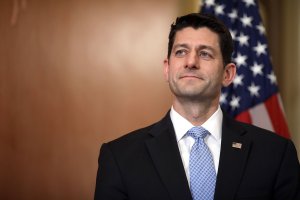 The right-wing website, which has panned the House GOP's proposed replacement for Obamacare, published audio Monday of Ryan saying in October that he is "not going to defend Donald Trump — not now, not in the future."
Ryan apparently made the remarks in a private conference call with House Republican members following the release of an audio clip in which President Donald Trump could be heard bragging about groping women.
The House speaker also said on the call that Trump's vulgar comments, which were captured prior to a 2005 appearance on "Access Hollywood," do not fit the GOP's "principles and values." Ryan can be heard telling members
Ryan's comments on the call were widely reported at the time, although the audio hadn't surfaced until Monday. In the clip published by Breitbart, Ryan lamented the seeming inevitability of a Hillary Clinton presidency, telling his members to "do what you think is best and do what you feel you need to do."
"But the last thing I want to do is to help Hillary Clinton get the presidency, and get Congress," Ryan said. "Look, she's a failed progressive. She's running an abysmal campaign. I mean, it's just — it's amazing how easily she could be beaten."
But by Election Day, Ryan was urging voters to elect Trump and produce a "unified Republican government." In January, Ryan said that congressional Republicans were "on the same page as the White House."
The timing of Breitbart's publication is telling. In recent days, the pro-Trump site has ran one negative story after another about the House GOP's health care bill, despite the president's endorsement of the legislation.
Breitbart, which was previously run by current White House strategist Steve Bannon, has reserved most of its negative coverage on the bill for Ryan. The site has derisively branded the legislation as "House Speaker Paul Ryan's Obamacare 2.0 plan."
Breitbart is a longtime adversary to the political establishment and has never been a Ryan booster. In October, The Hill reported that Bannon frequently referred to Ryan as "the enemy."