This is an archived article and the information in the article may be outdated. Please look at the time stamp on the story to see when it was last updated.
"Lock her up!" was his supporters' fervent cry.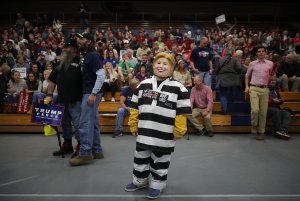 But it's Donald Trump who may find himself in political shackles, stuck between his followers' yearning to put Hillary Clinton in jail and his expressed desire to unite a badly fractured country after an election in which he lost the popular vote.
The tension is not likely to dissipate anytime soon. After having pledged to appoint a special prosecutor to investigate Clinton, Trump faces a dilemma: He can either drop the matter and risk angering his supporters, or charge ahead with a criminal inquiry targeting his vanquished political foe, something never before done in U.S. history.
"It's a tough decision," former New York Mayor Rudolph W. Giuliani, a Trump advisor and a top choice to be the next attorney general, told CNN on Thursday. "I don't know what the right answer to that is. It's a tough one that ought to be given a lot of thought. "
Click here to read the full story on LATimes.com.