This is an archived article and the information in the article may be outdated. Please look at the time stamp on the story to see when it was last updated.
Presumptive Republican presidential nominee Donald Trump will visit the United Kingdom on June 24, the day that final results from the highly anticipated "Brexit" vote are expected to be tallied.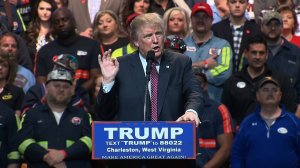 Trump spokesperson Hope Hicks confirmed that Trump will travel to Scotland on the 24 to visit the Turnberry Golf Resort, a property he has been working to open since buying the Turnberry hotel in 2014.
But the timing of Trump's visit, ostensibly for business purposes, is significant. On June 23, the U.K. will vote on the critical issue of whether it should stay in the European Union, a decision with far-reaching consequences for both the country and the institution. A finally tally of the vote is expected on the 24.
Trump's visit to the UK was first reported by the Guardian.
Trump has said he supports the "leave" side of the Brexit debate, though he hasn't spent much time discussing the issue. He told the Hollywood Reporter in an interview published Wednesday, "Oh yeah, I think they should leave."
And he told ITV's "Good Morning Britain" earlier this month that if he were president, an exit from the EU would not hurt the U.K. in terms of trade relations with the U.S.
"I don't think they'll be hurt at all. I mean, they'll have to make their own deal. Britain's been a great ally," Trump said.