This is an archived article and the information in the article may be outdated. Please look at the time stamp on the story to see when it was last updated.
Following months of anticipation and build up, Californians finally headed to the polls Tuesday and voted for a presidential candidate in the history-making primary, also casting ballots for statewide and local offices, as well as one ballot initiative.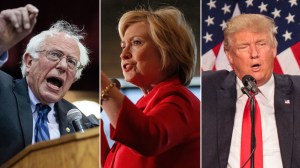 The June 7 election marks the end of a long, hard-fought primary season that began well before the first-in-the nation Iowa Caucus on Feb. 1.
Since then, 16 Republican candidates dropped out of the presidential race, leaving businessman Donald Trump as the presumptive GOP nominee. On the Democratic side, the small field dwindled to two early on and for months remained a two-candidate race between former Secretary of State Hillary Clinton and Vermont Sen. Bernie Sanders.
A record 17.9 million people are registered to vote in delegate-heavy California and can cast their ballots for the presidential candidates. Nearly 650,000 new voters registered in the six weeks leading up to the May 23 deadline.
Polls closed at 8 p.m.
(Click here for full California election results) 
Democratic Primary
Clinton has already clinched 2,838 total delegates, enough to make her the presumptive Democratic nominee even before California and five other states held primaries Tuesday, the Los Angeles Times reported.
She will become the first woman in the 240-year history of the U.S. to lead the presidential ticket of a major political party.
Clinton addressed the groundbreaking nature of her candidacy during a speech Tuesday night, embracing her place in history as the first women to become the presidential nominee of a major political party while also making clear the historic moment marks progress for a country that only allowed women to vote in the last century.
"Thanks to you, we've reached a milestone," Clinton told the large, boisterous crowd of supporters who gathered in Brooklyn to celebrate the feat. "Tonight's victory is not about one person. It belongs to generations of women and men who struggled and sacrificed and made this moment possible."
She also struck the same themes on Twitter ahead of her speech.
"To every little girl who dreams big: Yes, you can be anything you want—even president," Clinton wrote. "Tonight is for you."
Sanders, who has 1,569 delegates, now faces an existential campaign question: whether to honor his vow to fight on to the Democratic National Convention next month or accept the electoral mathematics that give him no viable path to victory and join Clinton to unite a party divided by a much more competitive primary race than expected.
He'll likely provide more details about his plans during a late-night speech in Santa Monica.
Early election returns showed Clinton with a nearly 30-point lead over Sanders, according to the California Secretary of State's Office. About 30 percent of precincts were reporting by 10:30 p.m.
An hour later, Sanders had slightly narrowed the gap, and was down about 20 points with nearly 41 percent of the precincts reporting.
Donald Trump 
Trump, who was the last candidate standing in a crowded Republican field after being bolstered by early wins in key states, has been the party's presumptive nominee following a decisive win in last month's Indiana primary.
His remaining challengers, Texas Sen. Ted Cruz and Ohio Gov. John Kasich, subsequently dropped out after the victory, leaving Trump as the only major candidate still running on the GOP side on the California ballot.
As he was essentially running unopposed, Trump was declared the winner of the state's primary a short time after polls closed, the Associated Press projected.
Around 6 p.m. PT, he delivered a more conventional speech that seemed a departure from the free-wheeling approach he often takes. Using a teleprompter — notable for someone who has blasted Clinton for being scripted — Trump attacked Clinton and called for GOP unity.
"We are only getting started and it is going to be beautiful," he said.
He used the speech to convey that he understood his new role as the leader of the GOP.
"I understand the responsibility of carrying the mantle and I will never, ever let you down," he said.
Race to Replace U.S. Sen. Barbara Boxer
California Attorney General Kamala Harris was projected by the Associated Press shortly after 9 p.m. to be the winner of the United State Senate race.
Harris was among 34 candidates vying for the seat held for more than two decades by Sen. Barbara Boxer, who announced last year that she would not seek reelection.
With 16.1 percent of precincts reporting, she had more than 40 percent of the vote, followed by Rep. Loretta Sanchez with about 16 percent.
Harris and Sanchez, both Democrats, were considered the top contenders going in to Tuesday's race.
The two were the only candidates who garnered double-digit support among registered voters in the latest LAT/USC poll, with Harris garnering 28 percent and 20 percent for Sanchez.
Running a distant third in the crowded field are Republicans George "Duf" Sundheim and Tom Del Beccaro, who are supported by six percent of respondents apiece in the poll.
The sheer number of candidates has prompted some concern among elected officials that voters may be confused by the two-page ballot and make an unintended selection, according to the Times.
The candidates who are the top two vote getters on Tuesday will face off in the Nov. 8 general election.
Prop 50 
The lone ballot initiative in the June 7 primary, Proposition 50, appeared to be winning in a landslide, early results from the Secretary of State's website indicated.
The measure would authorize legislators from the State Senate and the Assembly to suspend one it members by a two-thirds vote, and require him or her to forfeit their salary and benefits. That person would also have to give up their rights, powers and privileges, during their suspension.
Currently, state lawmakers can still get their salary and other benefits if they are suspended.
The measure was developed after the suspension of three state senators in 2014; prior to that, a state legislator had never been suspended in the Legislature's 164-year history, according to the Los Angeles Times.
By 10 p.m., it was was well ahead with more than 77 percent of people voting in favor of its passage.