This is an archived article and the information in the article may be outdated. Please look at the time stamp on the story to see when it was last updated.
Donald Trump has surpassed the necessary 270 votes in the Electoral College, the next step in the official process to become President.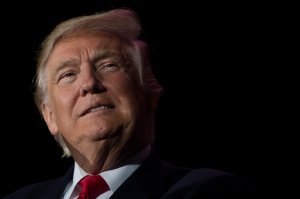 He was put over the top by electors in Texas. Thirty-six of the state's 38 went for Trump, while two ignored the state's Election Day results. One voted for Ohio Gov. John Kasich and one backed former Texas Rep. Ron Paul.
The Electoral College results will be officially certified January 6 during a joint session of Congress.
The first response from Trump's camp came from Vice President-elect Mike Pence, who tweeted: "Congratulations to @RealDonaldTrump; officially elected President of the United States today by the Electoral College!"
Pence also wrote, "I'm honored & humbled to be officially elected today as the next Vice President of the United States of America by the Electoral College."
The Texas results put the official tally at 301 electoral votes for Trump, 163 for Hillary Clinton and six for others.
In Washington state, four electors opted for other candidates, instead of backing Hillary Clinton. Three cast ballots for former Secretary of State Colin Powell, and one backed Faith Spotted Eagle, a Native American activist who's been involved in the North Dakota pipeline fight.
Those Washington electors also picked a mixed bag for the vice presidency. One voted for home-state Sen. Maria Cantwell. Massachusetts Sen. Elizabeth Warren and Republican Sen. Susan Collins of Maine each got votes, as well. And one went to activist Winona LaDuke, Ralph Nader's running mate as the 2000 Green Party nominee for vice president.
This is the first US presidential election since 1872 with more than one "faithless elector."
When all the votes were counted in November, the President-elect won 306 electoral votes to Clinton's 232. Some have since called on electors to vote against their state results, after Hillary Clinton won the popular vote by nearly 3 million ballots nationwide.
The 538 men and women will be voting primarily in accordance with the results from November in their state. The electors, chosen by state parties of the candidate who carried each state, will convene in all 50 state capitals and the District of Columbia.
While electors are technically chosen to independently cast their ballots for president, both precedent and, in most cases, state laws require them to abide by the people's vote in each state.
After a fraught election, some have called on electors to vote against their state results. Heightening the tension in recent weeks has been that Clinton actually won the popular vote by about 3 million ballots nationwide — making Trump the worst-performing winner in the popular vote since 1876.
In Minnesota, one elector was disqualified after declaring he would vote for someone other than his state's winner, Clinton. Under state law, he was replaced, and the alternate voted for Clinton.
Protests had popped up around the country Monday as frustrated Americans sought one last opportunity to stop the candidate they opposed.
But mass defections of electors would be extremely unlikely.
Thirty-seven of Trump's pledged 306 electors would have to vote against him, becoming so-called "faithless electors," to keep him under the 270 threshold to become President. If Clinton were to reach 270 in that far-fetched scenario, she could become President. If no candidate reaches 270, the House of Representatives would hold a vote when Congress reconvenes in January.
There have been a handful faithless electors in past cycles, though never enough to change the outcome of the race.
Ohio Secretary of State Jon Husted, whose state was won by Trump, tweeted a picture of the ballot for electors in his state. It featured a ballot for Trump as President and Mike Pence as vice president.
Elsewhere in the country, Americans protested near electoral voting sites in a last-ditch plea to stop Trump's election, despite the high unlikelihood of success.
In Tallahassee, Florida, protestors began gathering before 10 a.m. outside of the Senate Chamber entrance on the fourth floor of the Florida State Capitol. Asked if he actually expected any outcome other than 29 votes for Trump, Democracy Spring's Maxwell Frost sighed. "I'm hoping for the best," he said. "We'll see what happens."
While Trump has claimed he won in a landslide victory, that description is inaccurate. He is expected to garner just 56.9% of the electoral vote, assuming all electors vote according to their states' results. That will give Trump the 44th-largest share of the electoral vote out of 54 presidential elections since the modern system started in 1804.
The electoral votes will be officially counted on January 6, when Congress returns. Vice President Joe Biden will preside over the count.
Lawmakers can technically object — in writing, with objections signed by at least one House and one Senate member — to individual electoral votes or entire states' results. If the House and Senate support that objection, the vote or votes in question are thrown out. But that has never happened.
Trump will be officially set for his inauguration at noon on January 20 once all the electoral votes are counted.