This is an archived article and the information in the article may be outdated. Please look at the time stamp on the story to see when it was last updated.
Voters here sent Newt Gingrich to Congress for two decades. Tom Price, the conservative Republican tapped by President Donald Trump to dismantle Obamacare, represented the district for another dozen years.
In other words, this isn't the type of place where Democrats often seek solace.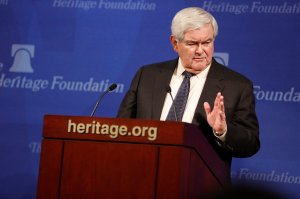 But the party, reeling from Hillary Clinton's loss in November and locked out of power in Washington, is looking to Atlanta's northern suburbs to test its ability to bounce back. While most of the country tries to move on from a bruising campaign, voters in Georgia's 6th congressional district return to the polls in April for a special election to replace Price, who Trump selected to become Health and Human Services secretary. Democrats are aiming to turn the race into an early referendum on the Trump presidency and hope success here could be replicated in gubernatorial races later this year in Virginia and New Jersey — where suburban voters are also crucial — and maybe even provide a playbook for regaining control of the House next year.
"It's a bellwether for what the Democratic Party is going to be about," Democratic National Committee Chairman Tom Perez told me recently, almost giddy about the prospects for the race.
There's little reliable polling about the contest and, given recent political history, Democrats are careful not to display overconfidence. But the party is optimistic about its main candidate in the race, 30-year-old Jon Ossoff, a former congressional staffer who could benefit from demographic changes in the district and has a $4 million campaign war chest largely funded by small donors. But most importantly, Democrats sense a distrust of Trump that could help them here and in other wealthy, highly-educated and increasingly diverse congressional districts around the country that might otherwise support Republicans.
There's data to back up their suspicions. This district experienced one of the biggest collapses in support for a Republican presidential candidate last year (the biggest shift played out in Utah). While Mitt Romney bested Barack Obama by 23 points here in 2012, Trump beat Clinton by less than 2 points, according to data from the liberal Daily Kos and confirmed by representatives for both the Democratic and Republican congressional campaign committees.
This suburban region is the epicenter of an evolution that played out across the Sun Belt last year but was largely overshadowed by Trump's stunning victories in traditionally Democratic strongholds in the industrial Midwest. In Georgia and Arizona, where Clinton only made a last-minute effort to compete, she came closer to beating Trump than she did in the more traditional swing states of Ohio and Iowa. Reliably red Texas was also closer than Iowa.
So what does it all mean? New battlegrounds are emerging and it's hard to know how it will all shake out.
"Georgia's no closer than Ohio?" Gingrich said during a recent conversation. "With everything you and I knew about politics up until Election Night 2016, we'd have thought that was impossible."
Energized Democrats
Democrats in Atlanta's conservative-leaning northern suburbs are feeling something they're not used to: energy.
As the national party gathered in a downtown ballroom on a Saturday morning last month to elect Perez as the DNC chief, more than 300 people turned out to a Democratic breakfast in Cobb County, just northwest of the city. The standing room only crowd was a noteworthy showing in a county that drew nationwide attention during the 1990s for passing a resolution condemning homosexuality.
"It's bigger than you know," Jaha Howard, a dentist who narrowly lost a surprisingly close state Senate race and is seen locally as a rising star, told me after the breakfast. "And it's a bigger tent of Democrats than we typically see."
Three hours later, hundreds more showed up in Roswell, where Ossoff was holding the first of two events to kick off his campaign's door-to-door canvassing efforts.
"It has very little to do with me and more to do with the timing and intensity of grassroots enthusiasm," Ossoff told me the previous night as he sipped tea alongside his longtime girlfriend, a student at the nearby Emory University medical school, at Meehan's Public House, a downtown Irish bar. "I think Atlanta can become — and Georgia can become — an economic powerhouse. I think that people here want access to more affordable health care choices. And I think people here are concerned that we're losing sight of those values."
Democrats' hopes here ride largely on the party's appeal to a large pool of suburban women, many of whom are relying on social media to organize. Hundreds have joined the Facebook page of a group called Liberal Moms of Roswell and Cobb or "LMRC" — a coalition of progressives in the heart of the district.
Over coffee at the "Land of a Thousand Hills" in Roswell, three of the group's leaders told me the same story about discovering its existence. Their first thought: "I thought I was the only one." The group and others like it are giving liberals new opportunities to express themselves in communities where that previously didn't feel like an option.
"The first time I put an Obama sign in our yard, our neighbor came over and jokingly threatened our lives," said Shari Sprigle, one of the group's members.
She said she was harassed while driving once, too. "Somebody honked at me to get me to roll down my window. My kid was in the back seat. I rolled down my window and she goes, 'Are you going to vote for Obama?' I said, 'Yeah, I am' — you know, I thought she was, like, friendly. And then she told me I was going to hell. …That's the environment here in Cobb County."
Now, she said, the group has "LMRC" car magnets — and a game. When a member sees another member's vehicle in a parking lot, they flip those magnets upside down as a way to indicate the driver has been noticed. It's a way of sending a message: You're not alone.
Two co-founders — Jen Cox and Lesley Bauer — recently split off to form another women's group, named PaveItBlue, with an even narrower focus: Provide the grassroots support Ossoff will need to flip the 6th district for Democrats. Their first meeting was on a recent Sunday night.
Cox said members of the groups love to see — and participate in — "visibility efforts," which provide a psychological boost in an area where Democrats have long felt demoralized, and particularly for working mothers who don't have time to phone bank or canvass for candidates.
"It energizes them like they've never felt, and it creates that feeling, like, 'Oh my gosh, I am an activist.' And that's powerful," Cox said.
"Your data may not show that visibility efforts work, that having signs up here work. But we're telling you that it hits us at an emotional level — that there's hope," she said. "You know, this is Newt Gingrich country. We've been left out for an entire generation. We don't feel left out anymore."
Replacing Tom Price
Georgia Gov. Nathan Deal set a special election for April 18 to replace Price. It's a "jungle" contest — which means every candidate will be listed on the same ballot. If one of the 18 declared so far hits 50% plus one, he or she is the winner. If that doesn't happen, the top two finishers — regardless of party — advance to a June 20 runoff.
Already, 11 Republicans have entered the race — including former Georgia secretary of state Karen Handel, former state senator Judson Hill, and Bruce LeVell, who helmed Trump's national diversity coalition and appears to be the first Trump aide to seek office since the billionaire businessman's election.
Two independents are in the running, as well.
Handel leads the way among the GOP, but Republicans are sharply divided over their field of candidates. Handel faces opposition from the conservative Club for Growth, which has launched TV ads attacking her spending as secretary of state and Fulton County commissioner and labeling her a "big-spending, career politician we can't trust with our money."
Dan Moody, meanwhile, got a big boost this week when Sen. David Perdue endorsed him in a 30-second TV spot, declaring the former state representative and businessman "one of us" who "cares more about getting results than getting credit."
The Democratic field, though, narrowed almost instantly, with one serious contender among the five declared candidates: Ossoff, who grew up in the northeastern Atlanta suburbs. Years earlier, Ossoff caught the attention of two of Georgia's most powerful Democrats — Reps. John Lewis and Hank Johnson.
Ossoff impressed Lewis enough by writing letters to his office as a high school student that the civil rights legend offered him an internship. Then, after Johnson was elected in 2006, he hired Ossoff on Lewis's recommendation to work on his Washington staff while Ossoff was still a student at Georgetown University. Ossoff was as a staffer for Johnson for five years before going to the London School of Economics for a master's degree and then launching a documentary film company.
As he considered his candidacy, Ossoff lined up meetings with Johnson and Lewis, leaving with both of their endorsements.
As we sat in the Rayburn Room just outside the House chamber this month, Johnson heaped praise on Ossoff, saying it was the then-college student's use of Facebook that launched him to victory in 2006. So when Ossoff said he believed he could win, Johnson trusted his former staffer's political mind.
"Between me and you — I certainly had my negative thought about whether or not Jon could win. But there was never any hesitation in terms of whether or not I would support him," Johnson said.
"The demographics of the state are changing," the six-term Democratic lawmaker said. It took "contortion" for Republicans to keep their seats safe after 2010, he said. But eventually, Johnson argued, the changing tides can't be stopped.
The support of Lewis and Johnson was enough to convince the Democratic Congressional Campaign Committee that the party had found a strong candidate — despite the GOP super PAC Congressional Leadership Fund's efforts to seize on Ossoff's youth with a $2.2 million ad campaign using footage of him dressed as Han Solo while in college.
The DCCC quickly moved staffers into the district, making clear it was prepared to spend money in a region national Democrats have largely avoided.
But it was the involvement of the liberal blog Daily Kos that really catapulted Ossoff onto the national map. The blog has been the largest driver of Ossoff's eye-popping $4 million fundraising effort to date. It bested its previous fundraising record for a single candidate — $412,000 for Elizabeth Warren in 2012 — in a single week. Daily Kos's pro-Ossoff fundraising efforts crossed the $1 million mark on February 28.
As Daily Kos political director David Nir and I exchanged emails this month, he argued that Georgia's 6th district "very well could be a test case for the future of Democratic targeting."
"It would generate even more excitement for future races. And I think it would terrify Republicans, because there are a lot of other districts like this one: traditionally GOP, but highly educated and very Trump-wary," Nir wrote.
What, though, about the record-breaking sums of money? Will such donation surges simply coincide with Trump actions that outrage the left?
"One thing I've experimented with is putting up blog posts asking people to contribute to Ossoff at times when people (myself included!) are really feeling angry and upset at Trump in order to give them something affirmative to do," Nir emailed. "For instance, I published this post the weekend Trump issued his travel ban. It raised almost $34,000. We then sent out an email based on that post and it raised another $118,000. We've seen similar responses in other similar situations as well."
National Republicans, meanwhile, are making plans to hammer Ossoff relentlessly.
They see three major points of attack against Ossoff: He's progressive enough to have become a darling of the liberal blogosphere, his filmmaking business did work for Qatar-owned Al Jazeera and the GOP believes he has inflated his resume.
Central to the resume argument: Ossoff has touted his national security clearance — but he only held that clearance for five months before departing Johnson's staff.
"Over the past few decades, the voters of GA-06 have shown they are not interested in the representation of a far-left Hank Johnson-type candidate who embellishes his resume," National Republican Congressional Committee spokeswoman Maddie Anderson said in an email. "We are looking forward to showing them that Jon Ossoff is not who he says he is in the coming days."
Nir said progressives are hoping for a win. But he also compared this race to one Democrats lost in 2005. In 2005, a hard-fought campaign by progressives brought Paul Hackett just three points away from victory in an Ohio congressional district that George W. Bush had just won by 28 points.
"That very tight margin in a race that should never have been competitive in the first place was a harbinger of 2006, when Democrats got extremely fired up and won a whole lot of previously red seats," he said.
National Democrats are careful to downplay expectations. Some party operatives said anything closer than a 60-40 blowout could be seen as promising. And because the race is a "jungle primary," Democrats won't yet officially endorse a candidate, even though Ossoff is the party's clear preference.
"There's no one here who's over-promising anything, because we recognize that this is still very challenging terrain," Perez said. "But we're working with the state party to build up our capacity and while we don't get involved in primaries, obviously, we are working and we will eventually be making an investment in this race to help another Democrat and to hold Trump accountable."
Gingrich, the man who once held the seat in play, is resisting the hype. He reminded me of his skepticism in 2014 when there was talk of Michelle Nunn, a Democrat with a legendary last name in Georgia politics, would beat Perdue for a Senate seat. Perdue wound up winning by nearly 8 points.
"Every election cycle, the Washington media has this idea that this is the year Georgia could be changing," the former speaker said. "And every election, it turns out not to be."