This is an archived article and the information in the article may be outdated. Please look at the time stamp on the story to see when it was last updated.
Democratic Rep. Maxine Waters of South Los Angeles was the intended recipient of two suspicious packages Wednesday, one found at a postal facility in South Central L.A. and another intercepted at a congressional mail sorting facility in Maryland, according to multiple sources.
The second package found in L.A. matches the description of those sent to CNN and Democratic political figures, said Ginger Colbrun, a spokesperson for the Bureau of Alcohol, Tobacco and Explosives.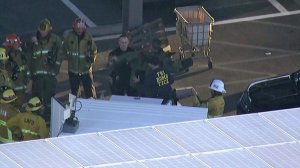 The Los Angeles Police Department said the postal facility — in the 7000 block of South Central Avenue in the Florence neighborhood — was evacuated around 5 p.m. while authorities investigated.
At 7 p.m., the agency said its bomb squad had rendered the package in question safe and the FBI was assuming control of the investigation.
The packages addressed to Waters, a liberal firebrand and the top Democrat on the House Financial Services committee, had similarities to the other suspicious packages, according to two law enforcement sources. One source said that belief was based on the timing, packaging and devices inside the packages. It was not clear if it was capable of exploding.
"I have been informed by U.S. Capitol Police that my Washington, DC office was the target of a suspicious package that has been referred to the FBI," Waters said in a statement following the discovery of the first package. "I am appreciative of the law enforcement entities who intercepted the package and are investigating this matter. I unequivocally condemn any and all acts of violence and terror."
Capitol Police said their offsite mail screening facility was evacuated as a precaution following the identification of a suspicious package addressed to a member of Congress. Capitol Police did not identify Waters as the recipient of the package. Capitol Hill's law enforcement arm said it was working with the FBI on investigating the incident.
The news comes as suspicious packages were sent to other high-profile Democratic figures, including former President Barack Obama and former Democratic presidential nominee Hillary Clinton.
Waters has been under fierce scrutiny this year from President Donald Trump and other Republicans after she encouraged people to publicly confront and "push back" on members of the Trump administration over immigration policy this summer.
Trump regularly targets Waters in speeches and on Twitter, and he has accused her of urging people to "harm" government officials, which Waters vehemently denies. On Monday, he described her as "a very low IQ individual," repeating a moniker he often uses for the congresswoman.
Waters has said she's faced an increase in threats since she made her controversial comments this summer. The California Democrat canceled two scheduled appearances in Alabama and Texas in June after saying she got threatening messages and "hostile mail" at her office, including "one very serious death threat" from an individual in Texas.