This is an archived article and the information in the article may be outdated. Please look at the time stamp on the story to see when it was last updated.
Three months after leaving the White House, former President Barack Obama will deliver the first public remarks of his post-presidency.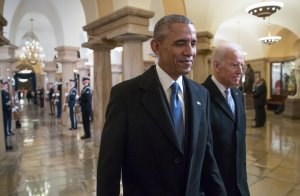 Obama is slated to speak with young leaders on Monday in his adopted hometown of Chicago. The event at the University of Chicago is billed by his office as a "conversation on community organizing and civic engagement" and a part of Obama's goal to "encourage and support the next generation of leaders."
The 44th president's public appearance will also come just days ahead of the 100-day mark for President Donald Trump. A spokesperson did not say whether Obama plans to address specific current events, but the highly anticipated gathering will provide an opportunity for him to weigh in publicly on his successor's first months in office.
One issue that is clearly on the former president's mind: the ongoing Republican efforts to repeal and replace Obamacare, his landmark health care law. He defended the Affordable Care Act on its seventh anniversary last month, saying in a statement: "Health care is not a privilege for a few, but a right for everybody."
For the most part, Obama and former first lady Michelle Obama have largely stayed clear of the public spotlight since leaving the White House. The former president has been spotted playing golf and vacationing on a private island in the Caribbean, but his schedule has been kept tightly under wraps.
The Obamas are penning memoirs, landing a deal with Penguin Random House that could yield them tens of millions of dollars. The couple plans to live in Washington until their younger daughter, Sasha, graduates high school in 2019.
Obama is also slated to appear with German Chancellor Angela Merkel in Berlin in late May and is due to accept an award in Boston prior to that.