This is an archived article and the information in the article may be outdated. Please look at the time stamp on the story to see when it was last updated.
President Trump's plans to crack down on so-called "sanctuary cities" has met with criticism from many politicians around California.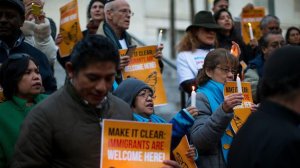 But Fresno Mayor Lee Brand said Thursday that he has no plans for his city to join the sanctuary city movement, which is designed to express support and solidarity for people in this country illegally.
"I'm not going to make Fresno a sanctuary city because I don't want to make Fresno ineligible from receiving potentially millions of dollars in infrastructure and other types of projects," he told the Fresno Bee. "My philosophy is to follow the law and to avoid these national culture-war questions."
Elsewhere in California, many political leaders both in big cities and Sacramento vowed to fight Trump.
Click here to read the full story on LATimes.com.