This is an archived article and the information in the article may be outdated. Please look at the time stamp on the story to see when it was last updated.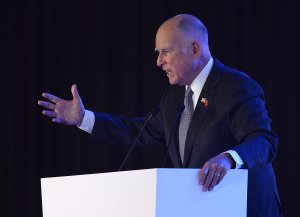 California Gov. Jerry Brown urged President Trump on Friday to keep a federal deportation protection program for people brought to the country illegally as children.
"To uproot these young people from the only country they have known as home is to turn our back on the future," Brown wrote in the letter. "It is cruel and it runs counter to the ideals this country was founded on."
Trump is considering whether to end the five year old Deferred Action for Childhood Arrivals program that has allowed some people brought to the country illegally to stay.
About a quarter of the more than 750,000 people in the DACA program live in California, a fact Brown noted in the letter.
Read the full story on LATimes.com. 
.@JerryBrownGov implores @realDonaldTrump: To uproot young people from only home they've ever known is cruel. #DefendDACA. pic.twitter.com/Fol3vt2Y86

— Nancy McFadden (@NancyEMcFadden) August 25, 2017