This is an archived article and the information in the article may be outdated. Please look at the time stamp on the story to see when it was last updated.
Gov. Jerry Brown finally made it official Thursday — he's running for reelection.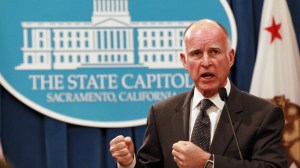 Brown filed paperwork in Alameda County to seek an unprecedented fourth and final term as governor. He had been widely expected to make the move, but had remained coy about his official plans as recently as Wednesday.
But with the June primary less than 10 weeks away, and with Brown scheduled to make a speech to the state Democratic Party convention in Los Angeles next weekend, the 75-year-old governor pulled the trigger on Thursday.
Brown sent out a letter to supporters announcing his run. "There is nothing I would rather do," he wrote. "So today, I have taken out the papers to run for re-election."
Click here to read the full story on LATimes.com.