This is an archived article and the information in the article may be outdated. Please look at the time stamp on the story to see when it was last updated.
The father of a standout Los Angeles High School football player who was fatally shot execution style by a gang member in the U.S. illegally spoke Monday night at the Republican convention in Ohio.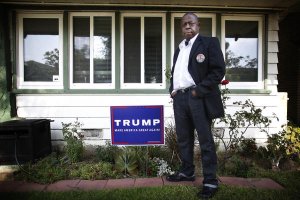 Jamiel Shaw Sr., who has endorsed presumptive GOP nominee Donald Trump, has previously appeared with the candidate and was featured in one of his campaign ads.
Shaw's son, Jamiel Shaw Jr., known by family members as Jas, was shot dead in 2008 near his Arlington Heights home.
"One minute, I'm hearing my son's voice, 'be right home ol' man, I'm right around the corner,'" Shaw Sr. told the crowd. "The next minute, gunshots and Jas is dead."
Gang member Pedro Espinoza mistook 17-year-old Shaw for a rival gang member because of the victim's red Spider-Man backpack.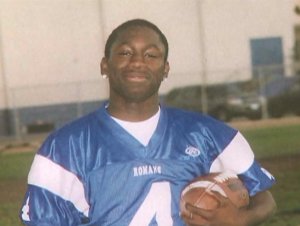 "I saw the hole in his head and blood everywhere," Shaw Sr. said. "It happened so fast, Jas was still holding his phone."
Espinoza, who was released from jail a day before the shooting, was sentenced to death in 2012.
"We learned the killer was an illegal-alien gangbanger from Mexico released from jail with a deportation hold, three gun charges and an assault and battery on a police officer," Shaw Sr. said Monday.
In summer 2015, the elder Shaw stood with Trump at a Beverly Hills event at which the candidate discussed his campaign-opening statement describing Mexican immigrants as "rapists."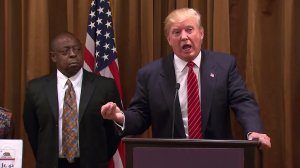 "When Mexico sends its people, they're not sending their best. … They're sending people that have lots of problems and they're bringing those problems with us. They're bringing drugs, they're bringing crime. They're rapists, and some, I assume, are good people," Trump said in June 2015, in a speech that has since been quoted extensively by his critics. "They're sending us not the right people."
At the July event, Shaw said Trump was "telling the truth" about immigration. He was one of one of several people who spoke about relatives victimized by undocumented immigrants.
In February, Shaw was featured in a campaign ad, which ran during the Republican primary in South Carolina, in support of Trump's plans to crack down on illegal immigration.
"Trump is the only one saying, 'You're going to be dealt with,'" Shaw said in the 30-second spot. "We're going to enforce that. That's a beautiful thing."
Shaw also appeared at a Trump rally in Costa Mesa in April.
At the convention on Monday, Shaw denounced the Obama administration's handing of immigration reform.
"You'd think Obama cared and that Black lives mattered … no," he said. "And we all know Hillary is Obama's third term."
In closing, Shaw told the crowd Trump was "sent from God."
In a list of speakers for the four-day event, Shaw is described as an "immigration reform advocate."
"In honor of Jas's life, Jamiel Sr. has worked tirelessly to raise awareness about our broken immigration system," the Republican National Convention website states.
Shaw is the third of three speakers described as "immigration reform advocates"; all have had family members killed by immigrants, according to the RNC site.
The theme of Monday's convention events is "Make America Safe Again."