This is an archived article and the information in the article may be outdated. Please look at the time stamp on the story to see when it was last updated.
California voters elected Kamala Harris, the daughter of immigrants from India and Jamaica, to the U.S. Senate on Tuesday, tearing down a color barrier that has stood for as long as California statehood.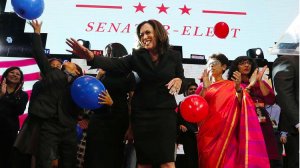 The Associated Press called the race minutes after the polls closed, with no votes yet reported. Early returns with less than half the vote counted showed Harris winning by more than 1.3 million votes.
From the outset, the Senate race between Democrats Harris and Orange County Rep. Loretta Sanchez possessed an air of history in the making. California had never before elected a black or Latino politician to the United States Senate, and Harris will become only the second black woman in the nation's history to serve in Congress' upper chamber.
Even in a state often perceived as liberal outlier, Harris' victory to succeed retiring Sen. Barbara Boxer provides another significant marker in the march for political equality during her lifetime. Her elementary school class in the 1970s was the second one to integrate Berkeley schools. Harris was the first woman elected as San Francisco's district attorney and the first woman to be elected as California's attorney general.
Click here to read the full story on LATimes.com.