This is an archived article and the information in the article may be outdated. Please look at the time stamp on the story to see when it was last updated.
Los Angeles County has launched an independent review to identify and address the causes of a printing error that resulted in more than 118,000 names to be missing from voter rosters during California's primary election, according to the Registrar-Recorder/County Clerk.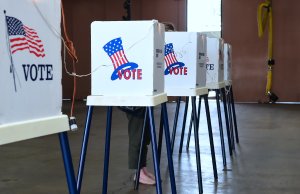 The county's chief information officer and auditor-controller will work with an independent third party to conduct the analysis and evaluation, a news release stated.
"The magnitude of this situation and the impact on public trust and confidence in the elections process is of great concern," Registrar-Recorder/County Clerk Dean C. Logan said in the statement. "I believe it is critical to have an independent third-party assessment of the incidents and a comprehensive analysis with reported findings, recommendations and evaluation to bolster the security protocols employed in future elections and to provide a full explanation to our electorate, Board of Supervisors and stakeholders."
Voters who were affected by the error at 1,530 precincts were asked to cast provisional ballots during the election, according to a statement issued by the office on June 5.
Logan announced Friday afternoon that 1,035,900 ballots had been processed so far. He added that more than 439,000 provisional, vote-by-mail and miscellaneous ballots still needed to be counted.