This is an archived article and the information in the article may be outdated. Please look at the time stamp on the story to see when it was last updated.
It's no secret Los Angeles Mayor Eric Garcetti is interested in running for president.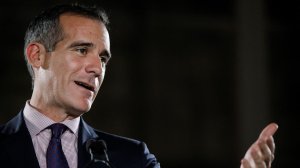 When reporters ask about his intentions, he's used all sorts of ways to deflect, typically by saying he's focused on his day job — for the moment.
But speaking in Spanish to a Univision reporter this week, Garcetti edged ever closer to the telltale admission he's actually considering it.
"I am thinking about this," said Garcetti, who is partly of Mexican heritage but learned Spanish attending private school. "But the majority of time goes to my work as mayor of Los Angeles but every [citizen] should think about what our role is in these difficult times, in these dangerous times."
Read the full story on LATimes.com.