This is an archived article and the information in the article may be outdated. Please look at the time stamp on the story to see when it was last updated.
State Sen. Tony Mendoza (D-Artesia) filed a lawsuit Thursday against the California Senate, seeking to overturn a forced leave of absence and challenging an investigation into allegations that he sexually harassed three former female aides.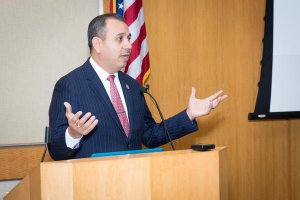 "This Kafkaesque process is the Senate's response to the #MeToo movement," the lawsuit says. "It is an unconstitutional sleight-of-hand where attacks on one Senator are used to hide other more serious allegations and offenders from public view."
The lawsuit, which is joined by Mendoza constituent Roger Bagne, seeks an injunction to "lift Senator Mendoza's unconstitutional suspension," requiring the Senate to return Mendoza to his "full rights and priveleges [sic]" as a senator. Mendoza also seeks a declaration from the court that the Senate's "secretive investigation and failure to advise Senator Mendoza of the allegations against him violates his right to due process."
"The Senate's disparate treatment of its own members and their constituents, along with its constantly-evolving and secretive investigative process is wrong and deeply troubling," Mendoza said in a statement. "The Senate's process and procedures for handling sexual harassment allegations remain a mystery, which unfairly impacts not only me, but also my constituents, the public, and victims of sexual harassment, who have no idea how their complaints will be handled."
Read the full story on LATimes.com.