This is an archived article and the information in the article may be outdated. Please look at the time stamp on the story to see when it was last updated.
Melania Trump's Washington calendar can officially begin to fill up: The first lady appointed Anna Cristina Niceta Lloyd, known as Rickie, as White House social secretary, the White House announced Wednesday evening.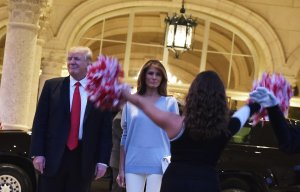 The social secretary oversees the planning and execution of all White House social events, per the White House statement, including state dinners, parties, official policy-related events, and the first lady's initiatives.
Niceta Lloyd previously worked as account executive at Northern Virginia-based Design Cuisine, a high-brow event planning and catering company that worked alongside the Joint Congressional Committee on Inaugural Ceremonies to cater the inaugural luncheon in the U.S. Capitol in January.
"Rickie brings with her over 22 years of solid diplomatic, political and social entertaining experience," Melania Trump said in the statement. "I am looking forward to sharing my ideas and traditions of entertaining and social hospitality to America's house, my new home as well. That, along with Rickie's vast experience, I am even more excited."
A longtime, well-connected Washingtonian, Niceta Lloyd lives in Chevy Chase with her two children and husband, Thomas Lloyd.
She has a special connection to the White House: Thomas Lloyd is the grandson of the late Bunny Mellon, a longtime friend and mentor to first lady Jacqueline Kennedy. Mellon was "instrumental" in designing the White House Rose Garden with Kennedy, per the White House.
A spokeswoman for the first lady has told CNN that Trump would be "splitting her time" between Washington and New York as son, Barron, 10, completes the school year. Trump has not returned to Washington since her husband's inaugural weekend festivities, but she joined the President in West Palm Beach last weekend for the Red Cross Ball and a Super Bowl watch party at Mar-a-Lago.
It was not immediately clear whether the first lady would be present at the White House when Japanese Prime Minister Shinzo Abe and his wife, Akie, arrive in Washington for a summit Friday.
Trump has slowly begun to fill positions in the East Wing: she named Lindsay Reynolds as her chief of staff and Tham Kannalingham as White House interior designer last week.
She acknowledged the delay in a statement last week, saying that putting together a team will "take time to do properly."
"I am putting together a professional and highly-experienced team which will take time to do properly. I am excited to be organizing and bringing together such a dynamic and forward thinking group of individuals who will work together to make our country better for everyone," Trump said.