This is an archived article and the information in the article may be outdated. Please look at the time stamp on the story to see when it was last updated.
Melania Trump said Thursday she'd work to improve a social media culture that "has gotten too mean and too rough, especially to children and teenagers," if she becomes first lady.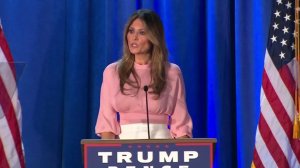 In a rare appearance on the campaign trail — and her first solo speech since the convention this summer — the wife of Republican presidential nominee Donald Trump discussed her vision for her role in the White House for the first time Thursday in suburban Philadelphia.
"It is never OK when a 12-year-old girl or boy is mocked, bullied or attacked. It is terrible when it happens on the playground, and it is absolutely unacceptable when it is done by someone with no name hiding on the internet," Melania Trump said. "We have to find a better way to talk to each other, to disagree with each other, to respect each other."
"We must find better ways to honor and support the basic goodness of our children, especially in social media," she said. "It will be one of the main focuses of my work, if I am privileged enough to become your first lady."
Not mentioned: Her own husband's long history of bullying political foes, journalists and entertainers on Twitter.
Watching my beautiful wife, Melania, speak about our love of country and family. We will make you all very proud. https://t.co/12unVAD9pI pic.twitter.com/s1MoWKROTt

— Donald J. Trump (@realDonaldTrump) November 3, 2016
In September, after Clinton cited Trump's reference to 1996 Miss Universe Alicia Machado as "Miss Piggy" and "Miss Housekeeper" during their first presidential debate, Trump said in a 3 a.m. Twitter rant that Machado is "disgusting" and a "con" and directed followers to check out a non-existent Machado sex tape.
It was Melania Trump's first speech since her appearance at the Republican National Convention, where her remarks triggered controversy because one section plagiarized Michelle Obama's 2008 Democratic National Committee speech. A speechwriter later apologized.
She cast her husband as someone who's in touch with America's working class.
"Every time my husband learned of a factory closing in Ohio or North Carolina or Pennsylvania, I could see him get very upset," she said as she made the case that the Republican nominee can fix the nation's economic woes.
Trump opened the speech by discussing her youth in Slovenia before immigrating to the United States, saying that "America meant if you could dream it, you could become it."
She said she went through a 10-year process of becoming a United States citizen, which she called "the greatest privilege in the world."
"I'm an immigrant, and no one values the freedoms and opportunities of America more than me," she said.
Melania Trump hasn't had a very public role on the campaign trail and has made it clear, publicly and privately, that her first priority is raising their 10-year-old son, Barron.
But her speech Thursday was the first of what Donald Trump said in an interview with ABC would be two or three major speeches before the November 8 election.
The speech took place in Berwyn, Pennsylvania — in the suburbs of Philadelphia — and was designed to help Trump win over the middle-class women in the region who could tip the balance of Pennsylvania's 20 electoral votes for Trump or Clinton.
Trump campaign manager Kellyanne Conway worked with Melania Trump on the speech and was in attendance Thursday. Conway, Trump advisers said, has built a positive relationship with Melania over the course of the campaign. And Melania has privately been very supportive of Conway's role as the head of her husband's campaign.
Melania Trump was introduced by Karen Pence, the wife of the Republican nominee's running mate Mike Pence.
"I know that America will fall in love with her just as much as she loves the American people," Karen Pence said.