This is an archived article and the information in the article may be outdated. Please look at the time stamp on the story to see when it was last updated.
Even as he worked to assure European leaders that the Trump administration isn't looking to scrap longstanding transatlantic ties, Vice President Mike Pence was met with outward skepticism from the bloc's top leaders on Monday.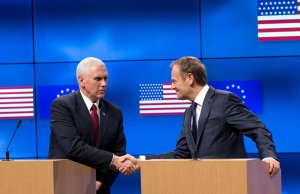 Speaking after talks with European Council President Donald Tusk, Pence offered a conciliatory tone, insisting that bonds between the United States and Europe would endure.
But Tusk himself was more blunt. Even while expressing an optimistic outlook, he acknowledged the bilateral ties had entered new, uncertain territory.
"Thank you for this meeting. We all truly needed it," Tusk said after he walked on stage with Pence. "Too much has happened over the past months in your country, and in the EU; too many new and sometimes surprising opinions have been voiced over this time about our relations -- and our common security -- for us to pretend that everything is as it used to be."
It was a pointed display of honesty for a formal joint statement in front of reporters. Tusk said he'd secured commitments from Pence on key areas -- international order, security, and the US stance toward the EU -- but was cautious in declaring the relationship on firm ground.
"In reply to these three matters, I heard today from Vice President Pence three times 'yes,'" Tusk said. "After such a positive declaration, both Europeans and Americans must simply practice what they preach."
Pence was more guarded in his remarks, repeating his commitment to NATO and vowing to counter Russian aggression. But, as he did earlier this week, Pence advised that Trump was looking for ways to refresh ties to Moscow.
"While the United States will continue to hold Russia accountable, at President Trump's direction we will also search in new ways for new common ground with Russia, which President Trump believes can be found," Pence said.
Pence is aiming to reassure European leaders of continued US commitment to the continent after Trump disparaged longstanding aspects of transatlantic ties during the presidential campaign.
He told Federica Mogherini, the European Union High Representative, that he was eager to identify areas for greater cooperation.
"I'm very grateful to have the opportunity to visit with you and explore ways that we can deepen our relationship with the European Union," he said over breakfast at the residence of the US Ambassador to the EU, a post that's currently unfilled.
Trump's rumored choice for the job, Ted Malloch, has caused unease among the diplomatic classes in Brussels for his vocal support of Britain's exit from the EU and his overall dismissal of the bloc. Malloch told the BBC recently he would work to rein in the EU if he was named to the ambassador post.
"I had in a previous career a diplomatic post where I helped bring down the Soviet Union. So maybe there's another union that needs a little taming," he said.
It's sentiments like that which have worried Europeans, who regard Trump as an advocate for Brexit-like splits within their union. Trump, at one point during his run for president, termed himself "Mr. Brexit" -- referencing both his support for the referendum and his conviction that polls showing him losing to Hillary Clinton would be proven wrong.
Pence, during closely watched remarks in Germany on Saturday, didn't mention the EU at all, a fact that didn't go unnoticed by the collection of national security professionals, foreign leaders, and diplomats who were attending the Munich Security Conference.
Instead, Pence chose during his remarks to project robust US support for NATO, despite Trump's claims that the defense alliance is "obsolete."
Pence was insistent that support for the alliance was a bedrock of US policy. But he demanded that other member nations scale up their defense spending to meet NATO's requirements, a longstanding request of US presidents that Trump has amplified.