This is an archived article and the information in the article may be outdated. Please look at the time stamp on the story to see when it was last updated.
Mitt Romney will speak Thursday on "the state of the 2016 presidential race," he said in a press release.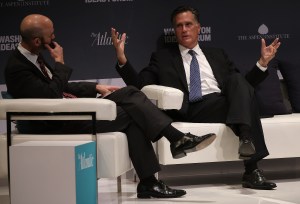 The 2012 Republican nominee will speak at 11:30 a.m. ET on Thursday at the University of Utah's Hinckley Institute of Politics Forum, the same day that the remaining GOP presidential candidates are schedule to debate in Detroit.
A source close to Romney told CNN the speech is not an endorsement or announcement. Another source close to Romney's plans said he's expected to praise Sens. Marco Rubio and Ted Cruz, who are both trying to be an alternative candidate to the brash billionaire.
Instead, he'll use the speech to criticize GOP front-runner Donald Trump, emphasizing that Trump is the wrong person to lead the Republican Party in November and underscoring the "choices facing the Republican Party and the country" in this election.
Another source close to Romney told CNN that he is "going after Trump" in the speech.
Trump responded late Wednesday by mocking Romney in a pair of tweets.
"Failed Presidential Candidate Mitt Romney is having a news conference tomorrow to criticize me," he tweeted. "Just another desperate move by the man who should have easily beaten Barrack (sic) Obama."
Romney's remarks come at a time of deep soul-searching for the Republican establishment as they consider ways to take on Trump, who dominated yesterday's Super Tuesday contests.
In Washington, Utah's Sen. Orrin Hatch told CNN, "If the convention is locked up, there's a possibility" Romney would run for president.
Romney has been especially vocal in criticizing Trump in recent days, raising the possibility that the billionaire's tax returns could contain a "bombshell" and slamming him for not disavowing white supremacists in an interview Sunday with CNN's Jake Tapper.
Trump later said he'd had a faulty earpiece, and noted he'd condemned former Ku Klux Klan grand wizard David Duke — who Tapper had asked about — both before and after that interview.
Still, Romney hit him on Twitter the following day, saying: "A disqualifying & disgusting response by @realDonaldTrump to the KKK. His coddling of repugnant bigotry is not in the character of America."
New York Rep. Peter King told CNN he wasn't aware of any "inside information" related to what Romney will say at Thursday's speech but did express concern over Trump's momentum in the presidential race.
"His whole campaign is all based around Donald Trump and his personality," King, who has endorsed Florida Sen. Marco Rubio, said, adding that he plans to be at the Republican convention this summer.
Deputy campaign manager for Romney's 2012 bid Katie Packer told CNN that "He wants to send a large message about issues and the brand of the Republican party."
"He was a candidate who always conducted himself with such dignity," she added.
Romney told CNN's Jake Tapper in October he would vote for the nominee of the Republican party for president in 2016, but added the caveat that he didn't "believe that's going to be Donald Trump."