This is an archived article and the information in the article may be outdated. Please look at the time stamp on the story to see when it was last updated.
The Trump administration revealed for the first time on Thursday that 746 individuals nationwide were held during the first weekend of President Donald Trump's travel ban, according to the American Civil Liberties Union.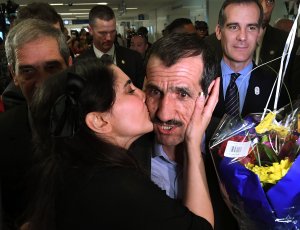 The Justice Department wrote in a cover letter transmitting the list of names to counsel that it includes anyone who was "encountered or undergoing processing" by U.S. Customs and Border Patrol and "this list includes legal permanent residents."
The list stems from a court order in Darweesh v. Trump, the first federal case to challenge the travel ban. U.S. District Court Judge Donnelly in the Eastern District of New York originally issued a nationwide temporary restraining order on Jan. 28, preventing the removal of those who were legally authorized to enter the U.S. Donnelly also ordered the government to provide a list of individuals who were detained pursuant to the executive order but did not specify what time period should be covered.
On Tuesday, at the ACLU's request, U.S. District Court Judge Carol Bagley Amon ordered the Trump administration to produce the names by 5 p.m. on Thursday. Amon's order includes anyone who, at any time during the period from 9:37 p.m. ET on Jan. 28 until 11:59 p.m. ET on Jan. 29, was being "held, including being processed," by U.S. Customs and Border Protection pursuant to the executive order.
Several days after the travel ban went into effect — and began to face lawsuits in federal court — the White House counsel's office clarified that legal permanent residents were not covered by the executive order.
"We are pleased to finally get the names, though it took more than three weeks from (Judge Donnelly's) court order," said ACLU attorney Lee Gelernt in a statement to CNN. "But we remain concerned that the list is incomplete and that it needs to be supplemented so we have information to find the affected individuals."
The Justice Department declined to comment on the case. The Trump administration has not revealed how many people nationwide were deported after the ban went into effect.
Amon will hold a hearing at 7 a.m. PST on Friday to consider whether the government should be ordered to bring the individuals who were previously deported pursuant to the executive order back to the US.