This is an archived article and the information in the article may be outdated. Please look at the time stamp on the story to see when it was last updated.
California officials proposed new rules Thursday for the growing, transporting and sale of marijuana when the state begins issuing licenses in January, and industry officials said the regulations and hefty fees are a mixed bag.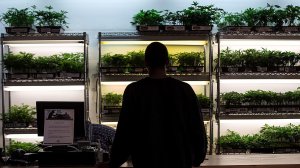 The regulations do not limit the size of cannabis farms, but require every plant to be traced from farm to sale. Security will be required at farms, trucks and pot shops, and cannabis cannot be marketed toward minors.
The license application fee for sellers and others will be $1,000 annually, but there are additional license fees of $4,000 to $72,000 charged to retailers based on how much they sell.
Also, an additional fee for testing firms will range from $20,000 to $90,000, while an added charge for distribution licenses will go from $1,200 to $125,000 depending on the amount of product moved.
Read the full story on LATimes.com.