This is an archived article and the information in the article may be outdated. Please look at the time stamp on the story to see when it was last updated.
The endorsement battle proved competitive in the governor's race at at Saturday's California Democratic Party convention, where John Chiang and Gavin Newsom were locked in a close race for the party's nod.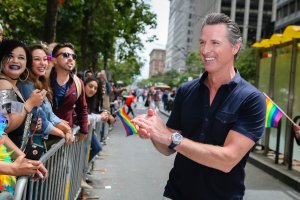 After the votes were tallied, no consensus was reached for a gubernatorial candidate. Newsom received the highest percentage of votes with 39 percent, followed by Chiang with 30 percent, Delaine Eastin with 20 percent, and Villaraigosa with 9 percent.
"The time for timidity is over," said Newsom, touching on his history of becoming the first mayor to marry same-sex couples, passing the state's highest minimum wage, and pushing for the first citywide universal health care plan when he was mayor of San Francisco. "My opponents in this race have spent a lot of time telling us what can't be done."
"My whole life we have faced down skeptics, defeatist Democrats who have suggested we need to pick our battles," Newsom said. "California has never succeeded by playing it safe."
Former Los Angeles Mayor Antonio Villaraigosa, made the case that his life experience growing up in poverty had prepared him for the challenges of the governor's office.
"Millions of Californians are worker harder than ever before, and they are still falling further and further behind," Villaraigosa said. "There are two Californias, one rich and getting richer, and another where millions of hardworking families are still struggling to make their California dream come true. But it doesn't have to be this way. They call us the Golden State and we can shine again."
Villaraigosa, who has long trailed Newsom with his fundraising efforts, threw a few jabs in his rival's direction. At one point, he noted that he learned about poverty and the middle-class struggle through his own life experience, not at "a panel at Davos."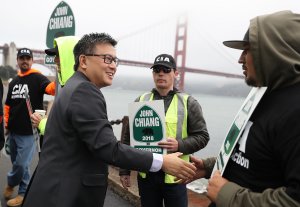 Without mentioning their names, Chiang took shots at both Newsom and Villaraigosa. He alluded to the fact that both weathered embarrassing episodes when their past marital problems spilled into the public eye.
"You deserve a governor with integrity to lead and the character to make every Californian proud," said Chiang, who is state treasurer. "You deserve a governor you can trust, a governor with the credibility to go after sexual harassers."
Chiang tried to position himself as the best candidate to stand up to Trump, noting he had experience standing up to "racist bullies" when he was a child.
The endorsement caucuses Saturday night could be a key factor in narrowing the field in the seven congressional races in California that are key to Democrat's hopes of winning back the House of Representatives.
Party officials are concerned that the large field of Democratic candidates in several races — including the contests to replace retiring Republican House members Darrell Issa and Ed Royce — could actually put Democrats in a scenario where they split the vote, creating a path for the Republican candidates.
Though voting took place in those congressional races Saturday night, the results will not be final until they are certified on the convention floor Sunday.