This is an archived article and the information in the article may be outdated. Please look at the time stamp on the story to see when it was last updated.
Swastikas and the word "Go Trump" were painted on playground equipment at Adam Yauch Park in Brooklyn, according to New York police spokeswoman Annette Shelton. The park is named after the late Adam "MCA" Yauch, a founding member of the pioneering rap band Beastie Boys.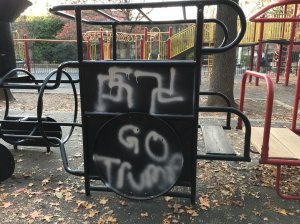 The vandalism was discovered Friday afternoon, according to Shelton. A resident reported it to police, who are investigating the incident.
Like the other two Beasties, Yauch was Jewish. He performed with the group until he died of cancer in 2012.
New York City Councilman Brad Lander, who represents that part of Brooklyn, wrote on Twitter: "Yet more hatred & anti-Semitism from Trump supporters."
He also tweeted, "No place for hate. We will not be cowed."
On Twitter, the Beastie Boys asked fans to join local officials Sunday morning at a rally in the park.
"Hate has no place in Brooklyn, NYC, or America," the tweet said. "Join us … to stand against hate messages.
Lander told CNN the graffiti had been painted over. Instagram images show hearts and flowers over the graffiti.
The swastika discovered Friday in a Brooklyn park was the 13th reported in the city since Election Day, according to Robert Boyce, chief of detectives for the New York Police Department.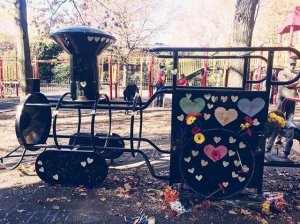 Other swastikas have been found in a school in Manhattan and a housing development in Brooklyn, Boyce told reporters. The number is up from two in the same period of time in November last year, Boyce said.
According to the New York police, the number of hate crimes in the city has increased 31.5 percent in the year to date from 2015 to 2016 — up from 250 to 328. Hate crimes targeting Muslims are up from 12 to 25, and hate crimes targeting Jews are up from 102 to 111, the police said.
Boyce said the swastika at the Brooklyn playground was the only one that included Trump's name.
New York Mayor Bill de Blasio told reporters this week, "A lot of us are very concerned that a lot of divisive speech was used during the campaign by the President-elect, and we do not yet know what the impact of that will be on our country."