This is an archived article and the information in the article may be outdated. Please look at the time stamp on the story to see when it was last updated.
After a rally for presidential candidate Donald Trump brought protesters to the Anaheim Convention Center Wednesday, prompting authorities to declare an "unlawful assembly," at least 14 people were arrested, police said.
Hundreds of protesters remained on the streets after law enforcement gave an order to disperse just before 2 p.m.
The event at the Anaheim Convention Center began about 12:30 p.m, with Trump returning to Orange County for the first time since a campaign rally in Costa Mesa on April 28.
At one point, Trump joined thousands of supporters in chanting "build that wall," in reference to his plan to have Mexico build a wall along the U.S. border.
Several hundred people gathered outside the event, including one young man who had a Trump-shaped piñata.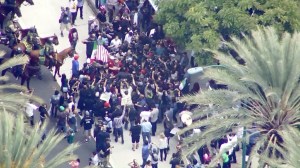 Mounted officers moved in to break up an incipient confrontation about 1:30 p.m., aerial video from Sky5 showed. A Trump supporter had entered the fray with a bullhorn and was shouting at the protesters that their stance was why "we need to build the wall."
The man told the protesters to "go home," saying Orange County did not need them there. In response, anti-Trump protesters called his supporters "racist."
As the rally ended and Trump finished speaking just before 1:30 p.m., groups of apparent protesters scattered. A group gathered in the parking lot of Tiffy's Family Restaurant, focused on one man carrying a large American flag. Police were close by.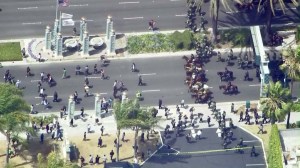 Just before 2 p.m., police ordered protesters to disperse, saying the gathering had been declared an "unlawful assembly." Dozens of mounted officers appeared to be trying to clear the streets.
Trump supporters appeared to gather at the edge of a parking structure, chanting at protesters on the street below. Hotels on convention way were locked down because of the large crowds, police said.
After police initially released a changing number of arrests, Anaheim Police Department Detective Laura Lomeli said a total of 14 people were arrested — nine adults and five juveniles.
One person was arrested on suspicion of selling T-shirts without a business license, and two others on suspicion of urinating in public, she said.
The 11 others were arrested for failing to disperse or vandalism, Lomeli said.
No injuries were reported.
Trump finished his 55-minute speech by telling supporters that the country and he were going to "win, win, win."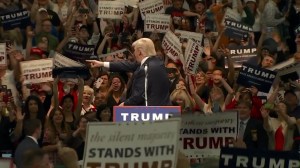 "You're going to say to me, Mr. President, 'We're winning too much, we can't take it.' And I'm going to say, 'I'm sorry, we're going to keep winning because we are going to make America great again," Trump said.
Trump headed to Hollywood later in the afternoon to tape an appearance for the "Jimmy Kimmel Live" show.
Last month, 17 people were arrested when violence erupted outside the Pacific Amphitheatre on the OC fairgrounds that day.
Video from Sky5 showed a protester jumping on top of a parked patrol car at the event.
One of the protesters was charged with felony vandalism and misdemeanor "inciting a riot," as crowds of protesters flooded the streets.
On Tuesday, anti-Trump protesters took to the streets and threw rocks and bottles outside the presumptive Republican presidential nominee's rally in Albuquerque, New Mexico.
The Anaheim Police Department was expected to be out in force Wednesday and called for peace ahead of the event.
Demonstrators were also warned that police will not tolerate violence or disobedience of the law.
"Everyone has the right to participate without fear of violence or disorder, and we are prepared to take swift and decisive enforcement action should it become necessary," Police Chief Raul Quezada stated in a news release.