This is an archived article and the information in the article may be outdated. Please look at the time stamp on the story to see when it was last updated.
President Barack Obama sharply defended his strategy Monday for going after ISIS amid mounting criticism that the U.S. is not doing enough to stop the terror organization that went on a killing spree in Paris last week.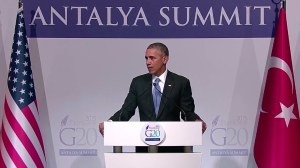 He faced a barrage of tough and probing questions from international journalists at a G20 summit in Antalya, Turkey, that often put him on the defensive. In response, he repeatedly stressed confidence in his approach to combating terrorism and handling Syria, where a civil war has dogged his administration for years and helped create an opening for ISIS to flourish.
"We have the right strategy and we're going to see it through," Obama said. "There will be an intensification of the strategy we have put forward, but the strategy we have put forward is the strategy that will ultimately work" though it will take time.
He said that airstrikes by the U.S.-led coalition have been effective in taking out key members of the terror group's leadership and that a large presence of ground troops in Syria would be a "mistake."
An increasing chorus of critics, especially in the GOP, have called for a more aggressive U.S. military effort in fighting ISIS, but Obama pushed back against that call.
"It is not just my view but the view of my closest military and civilian advisers that that would be a mistake," Obama said, adding that's "because we would see a repetition of what we've seen before, which is if you do not have local populations that are committed to inclusive governance and who are pushing back against ideological extremes, that they resurface, unless we're prepared to have a permanent occupation of these countries."
Last month, Obama committed to sending "less than 50" Special Operations forces to the region to fight ISIS, also know as ISIL.
Obama used much of the press conference to strike back at his critics, sounding at times defensive and combative. His tone also contrasted with that of French President Francois Hollande, who was speaking at the same time in France.
"France is at war," Hollande declared, indicating he would ask parliament to impose a three-month-long state of emergency.
Obama, for his part, justified his use of the term "contained" last week to describe the ISIS threat, a remark he made in an interview that aired just hours before the Paris terror attack.
"When I said that we are containing their spread in Iraq and Syria, in fact they control less territory then they did last year and the more we shrink that territory, the less they can pretend that they are somehow a functioning state," Obama said Monday. "And the more it becomes apparent that they are simply a network of killers who are brutalizing local populations that allows us to reduce the flow of foreign fighters, which then over time will lessen the numbers of terrorist who can potential carry out terrible acts like they did in Paris."
He was also dismissive of those who "seem to think that if I were just more bellicose in expressing what we're doing, that would make a difference."
Instead, he said, "We'll do what is required to keep the American people safe."
He continued, "if folks want to pop off and have opinions about what they think they would do, present a specific plan. If they think that somehow their advisers are better than my chairman of my Joint Chiefs of Staff and the folks who are actually on the ground, I want to meet them. "
He cited U.S. efforts to help Kurds retake Sinjar Mountain in Iraq and the recent killing of an ISIS leader in Libya as examples of his strategy working.
"ISIL leaders will not have a safe-haven anywhere," he said, calling the terror group the "face of evil."
In regards to preventing the Paris attack, Obama said his intelligence agencies gave no specific mentions of this particular attack that would have indicated something that the U.S. could have provided French authorities.
"I'm not aware of anything that is specific that would have given premonition of action in Paris," he said.
But Obama did announce that the United States would begin a new "streamlined" process of sharing intelligence with France. He said the agreement will allow intelligence personnel to "pass threat information, including on ISIL, to our French partners more quickly and more often" and could help prevent further attacks.
The fruits of that cooperation were borne Sunday night, when French jets began a bombardment of Raqqa, the Syrian headquarters of ISIS. A senior administration official said the U.S. was assisting the operation.
But the mission reflected only an incremental surge of existing strategy, which has focused on using air power to take out ISIS sites in Iraq and Syria. White House officials ruled out sending combat ground troops into Syria, and made no indication it was rethinking a no-fly-zones.
Obama was speaking just before departing from the G20 summit, being held at a Turkish resort 500 miles from the Syrian border. The economic conference was already slated to focus intently on combating ISIS before the Paris attacks; after the mass violence in France, talks between Obama and other leaders revolved primarily on the terror crisis.
He huddled for 30 minutes with Russian President Vladimir Putin on Sunday, agreeing during the informal meeting on a path toward a political transition in Syria. He also spoke with the king of Saudi Arabia and European leaders to consolidate support for his plan against ISIS.
But there appeared to be little appetite among foreign leaders here for a large-scale ground effort in Syria.
The Paris attacks have dashed whatever momentum Obama had been enjoying in his battle against ISIS, including helping Kurdish fighters retake Sinjar Mountain in Iraq and apparently killing the ISIS executioner "Jihadi John" in a drone strike.
They've also brought new scrutiny to the flood of refugees from Syria, which Obama has said must prompt new measures by European nations to accommodate those fleeing their country's civil war.
One of the suspected culprits of the Paris terror attack is thought to have entered Europe in the current wave of migrants, leading some leaders to demand tighter controls on the flow.
The U.S. has accepted only 1,500 refugees from Syria since 2011, but the White House said in September that 10,000 would be allowed entry next year.
Obama condemned critics who want a "religious test" for admitting refugees from Syria, blasting the idea as un-American.
He also used the charge to indirectly attack Republican 2016 presidential candidates.
"When I hear political leaders suggesting that there would be a religious test for which a person who is fleeing from a war-torn country is admitted, when some of those folks themselves come from families who benefited from protection when they were fleeing political persecution, that's shameful, that's not American," Obama said. "That's not who we are. We don't have religious tests (for) our compassion."
Florida Sen. Marco Rubio and Texas Sen. Ted Cruz, who are both running for president, are the children of Cuban immigrants and have called for increased scrutiny of refugees fleeing Syria who seek asylum in the U.S.
Obama called on world leaders to accept refugees fleeing the conflicts in Syria and Iraq, though he added that accepting refugees required "rigorous screening and security checks."
"We also have to remember that many of these refugees are victims of terrorism themselves," Obama said.
"The overwhelming majority of victims of terrorism … are Muslims," Obama added later. "ISIL does not represent Islam, it is not representative in any way of the attitudes of the overwhelming majority of Muslims."